Anchor Launches New Hardcover Line With THE VIOLIN CONSPIRACY, GMA Book Club Pick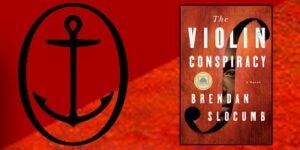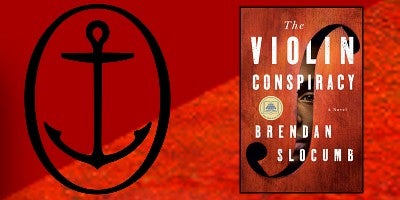 THE VIOLIN CONSPIRACY by Brendan Slocumb, the lead title of the new Anchor Books hardcover line, was published on Tuesday, February 1, when it was named the Good Morning America Book Club pick for February. Suzanne Herz, EVP & Executive Director, Doubleday & Publisher, Vintage and Anchor Books, says, "Launching Anchor's first hardcover book with a GMA Book Club pick isn't just great for our wonderful author, Brendan Slocumb, and THE VIOLIN CONSPIRACY, but it also makes a clear statement about what readers should expect from the Anchor hardcover list: big, compelling reads that keep you up late into the night, and that you'll recommend to everyone you know."
Herz adds, "Over the past two years in my role as Publisher of Vintage and Anchor, I have been deeply impressed by the team and their smart, savvy approach to backlist trade and frontlist original publishing. Expanding our paperback publishing program with a carefully curated hardcover list is a very exciting growth opportunity for us. The hardcover list will focus primarily on psychological suspense, mystery, and commercial fiction, as well as popular and voicey nonfiction. Edward Kastenmeier will lead the program as VP, Editorial Director, Anchor Books hardcovers."
Kastenmeier comments, "I have long felt that there was a certain type of upmarket commercial fiction that was significantly underrepresented in the group. With the arrival of Suzanne Herz, who publishes John Grisham and Dan Brown, it seemed like the ideal time to create a line committed to publishing mysteries, thrillers and psychological suspense, as well as big-hearted fiction and romantic comedies. We plan to publish voice-driven nonfiction titles as well. Perhaps the most exciting part is that, since the group hasn't been publishing much in this space, there is plenty of room for us to carve out a new niche that doesn't compete with our existing programs. And in our subsequent discussions with in-house stakeholders, as well as with the agenting community, it's become clear that others see and welcome this need as well. "
In addition to THE VIOLIN CONSPIRACY, which earned a rave review in The New York Times this week, the inaugural Anchor hardcover list also includes Amy McCulloch's debut thriller, BREATHLESS (May 3); Taylor Hahn's debut novel, THE LIFESTYLE (June 7); and Tyrell Johnson's THE LOST KINGS (August 2).
According to Kastenmeier, "To date, we have already signed up more than a dozen titles, and based on the early enthusiasm we are seeing for the launch list I feel like Anchor Books' hardcovers are set up for great success. We were originally thinking of publishing 6 to 8 titles a year, but the response from our reps and booksellers has been so tremendous that we've grown beyond that already."
Founded in 1953, Anchor Books is the oldest trade paperback publisher in America. Its list boasts award-winning fiction, history, science, women's studies, and sociology, and its authors published in paperback include Chimamanda Ngozi Adichie, Karen Armstrong, Margaret Atwood, Dan Brown, David Grann, John Grisham, Jon Krakauer, Alexander McCall Smith, Ian McEwan, Chuck Palahniuk, Anne Rice, and Colson Whitehead.
In 1999 Anchor Books merged with Vintage Books, which was founded in 1954 by Alfred A. Knopf.
Posted: February 3, 2022