Andrea Bartz Shares Her Writer's Routine via Instagram (5/13)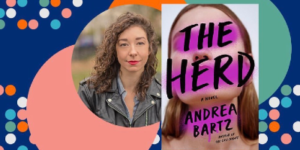 Andrea Bartz, author of THE HERD (Random House), is featured on the RH virtual event, "Writer's Routine," where she will discuss writing feminist thrillers on Random House's Instagram, Wednesday, May 13, at 12:30pm (ET).
The name of the elite women-only coworking space stretches across the wall behind the check-in desk: THE HERD, the H-E-R always purple. In-the-know New Yorkers crawl over one another to apply for membership to this community that prides itself on mentorship and empowerment. Why did the founder of a glamorous coworking space for women disappear? Her best friends will risk everything to uncover the truth.
Bartz is a Brooklyn-based journalist and author of The Lost Night and The Herd. Her work has appeared in The Wall Street Journal, Marie Claire, Vogue, Cosmopolitan, Women's Health, Martha Stewart Living, Redbook, Elle, and many other outlets, and she's held editorial positions at Glamour, Psychology Today, and Self, among other titles.
!! As a reminder, if you are a PRH employee posting to a personal or other non-PRH account, you must include the hashtag #TeamPRH !! 
Posted: May 12, 2020