Andy Weir Spans Oz, Wonderland, Neverland Multiverse in New Crossover Graphic Novel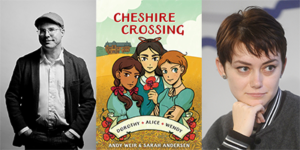 Before Andy Weir became recognized internationally as the #1 New York Times-bestselling, award-winning author of THE MARTIAN (Crown/Broadway), he spent his free time writing fanfiction and web comics. With the help of illustrator Sarah Andersen, one of his early web comics has been adapted into a lushly illustrated new graphic novel, CHESHIRE CROSSING, published by Ten Speed Press on July 9.
Weir, a passionate fan of crossovers, one day began to consider what would become of the young heroines of classic adventure stories. He asked himself, "Wouldn't Alice [from Alice in Wonderland] be a little messed up? She was a little girl who was put in mortal danger repeatedly and saw people die left and right." Realizing Dorothy from The Wizard of Oz and Wendy Darling from Peter Pan had similar "horrifying adventures," Weir answered his own questions in CHESHIRE CROSSING as the three girls, now teenagers, cross dimensions and team up to save the multiverse in a "deliciously funny," breakneck, boundlessly inventive journey.
For Weir, the most challenging part of deviating from narrative fiction for this project was the artwork. His commitment to the story drove him to illustrate it on his own despite his fatigue with the illustrative process. Years later, in the hopes of bringing CHESHIRE CROSSING to a larger audience, Weir and his editor, Julian Pavia, enlisted the talents of Sarah Andersen to renew the art for the graphic novel format.
Anderson's famous comics, Sarah's Scribbles, have brought her millions of followers, including Weir, who raves, "Her comics aren't just funny, they're therapeutic." CHESHIRE CROSSING allows readers to see a new side of her artistic abilities in addition to her acclaimed and charming cartoons. The duo hopes to collaborate again in the future so that Andersen can also put her writing chops on display.
CHESHIRE CROSSING is available as an audiobook from Random House Audio and is an Audible Editor's Pick for July. To watch the-making-of the CHESHIRE CROSSING audio edition trailers, click here.
Andy Weir built a career as a software engineer until the success of THE MARTIAN, his first published novel, allowed him to live out his dream of writing full time. He is a lifelong space nerd and a devoted hobbyist of subjects such as relativistic physics, orbital mechanics, and the history of manned spaceflight. He also mixes a mean cocktail, and lives in California.
Sarah Andersen is a 26-year-old cartoonist and illustrator. She is a three-time Goodreads Choice Award winner and proud black cat owner. She graduated from the Maryland Institute College of Art in 2014 and currently lives in Brooklyn.
Posted: July 16, 2019