ANGELS, BECOMING, TESTAMENTS, CHARLOTTE'S WEB PRH Audiobook of the Year Nominees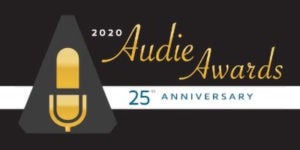 Fresh from the thrilling Best Spoken Word Album Grammy win for BECOMING, Penguin Random House Audio has earned four of the six nominations for "Audiobook of the Year Audie." The coveted annual peer awards are sponsored by the Audio Publishers Association trade group. In all, Penguin Random House Audio publishes 19 of the Audie finalists across multiple categories. Winners will be announced at the Audies Gala on March 2 in Manhattan.
Our Audie Awards Finalists:
Audiobook of the Year
Audio Drama
Autobiography/Memoir
Best Male Narrator
Fantasy
Fiction
History/Biography
Humor
Literary Fiction & Classics
Middle Grade
Multi-Voiced Performance
Narration by the Author or Authors
Young Adult

Young Listeners
Congratulations to our nominated audiobook authors, narrators, producers and publishers.
To view the complete list of 2020 Audie Awards finalists, click here.
Posted: February 4, 2020