Apple TV+ Adapts Bestselling Novel DEFENDING JACOB Into Miniseries. Watch the Trailer!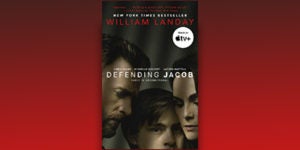 Apple TV+ has released the first trailer for their adaptation of William Landay's bestselling novel DEFENDING JACOB (Delacorte Press/Bantam). The eight-part series stars Chris Evans and Michelle Dockery as parents of a teen boy accused of a gruesome act. The first three episodes will premiere on Friday, April 24 exclusively on Apple TV+.
Defending Jacob follows Andy Barber, a respected assistant district attorney who happily lives with the loves of his life: his wife, Laurie, and their teenage son, Jacob. Then Andy's quiet suburb is stunned by a shocking crime: a young boy stabbed to death in a leafy park. And an even greater shock: The accused is Andy's own son—shy, awkward, mysterious Jacob. Andy believes in Jacob's innocence. Any parent would. But the pressure mounts. Damning evidence. Doubt. It is the ultimate test for any parent: How far would you go to protect your child? It is a test of devotion. A test of how well a parent can know a child. For Andy Barber, a man with an iron will and a dark secret, it is a test of guilt and innocence in the deepest sense.
"It's so exciting that the tv series is giving us another opportunity to introduce a new group of readers to one of our all-time favorite Ballantine Bantam Dell books," said Jennifer Hershey, SVP & Editor in Chief and Associate Publisher of Ballantine Bantam Dell. "Even though the original publication was eight years ago, I still remember vividly the reaction of various colleagues as they came into my office to discuss it after reading, especially that unforgettable ending. That groundswell of excitement led to an incredibly creative and ambitious publishing plan, one that some team members even later taught as a case study in publishing courses. We are all so thrilled to have an opportunity to promote this title from one of our beloved authors in connection with the new series."
Make sure to stream Defending Jacob when it premieres next month and check out the official trailer below.
Posted: March 26, 2020