Apply for the PRH Audio Narrator Mentorship Program!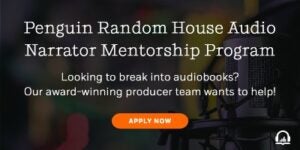 Launched in 2021, the Penguin Random House Audio Narrator Mentorship Program is an initiative for actors new to audiobooks, offering them the opportunity to work with our team of producers to strengthen their craft and gain industry knowledge.
PRH Audio producers Kelly Gildea and Amber Beard founded the program as an inclusivity initiative; they've received thousands of applications from around the world and more than 50 narrators have participated in the program thus far. The vast majority of mentees who have completed the program thus far have gone on to narrate audiobooks for Penguin Random House Audio and other publishers, using the skills they developed during this mentorship.
PRH Audio is currently accepting applications for the January 2024 session. Over a six-month period, mentees will be guided by their mentors in individual coaching sessions, producing a demo sample, as well as preparing for and completing an audio audition.
Know an aspiring narrator? Learn more and apply here by Friday, September 8 at 11:59 PM ET.
Get to know two of our Penguin Random House Audio Narrator mentorship alumni:
Posted: September 5, 2023