Ariel Lawhon Shares Spy Secrets from Her Latest Novel on Instagram (4/16)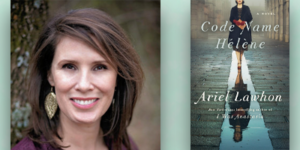 Ariel Lawhon, author of CODE NAME HÉLÈNE (Doubleday), will dive into the twisty tale at the heart of her latest novel via Lemuria Books Instagram on Thursday, April 16, at 6:30pm (ET).
Based on the real-life story of socialite spy Nancy Wake, comes the newest feat of historical fiction from the New York Times bestselling author of I Was Anastasia, featuring the astonishing woman who killed a Nazi with her bare hands and went on to become one of the most decorated women in WWII. Told in interweaving timelines organized around the four code names Nancy used during the war, Code Name Hélène is a moving story of enduring love, remarkable sacrifice and unfaltering resolve that chronicles the true exploits of a woman who deserves to be a household name.
Lawhon is cofounder of the popular website SheReads.org. A novelist, blogger, and lifelong reader, she lives in the rolling hills outside Nashville, Tennessee, with her husband, four sons, and black lab—who is, thankfully, a girl.
!!A reminder for PRH employees: If you are posting this article to a personal or other non-PRH account you must include the hashtag #TeamPRH.!!
Posted: April 15, 2020