Asako Serizawa Wins The Story Prize Spotlight Award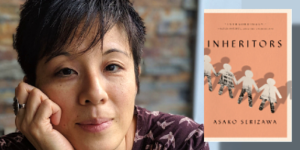 Doubleday author Asako Serizawa has won The Story Prize Spotlight Award for INHERITORS, her debut collection of 13 stories that feature five generations of a Japanese family fragmented by the Pacific side of World War II.
The Story Prize Spotlight Award, established in 2014, honors books of exceptional promise by first-time authors; collections in alternative formats; or works that demonstrate an unusual perspective on the writer's craft. The award includes a prize of $1,000.
Our warm congratulations to Ms. Serizawa, her editor, Lee Boudreaux, and everyone at Doubleday.
The 17th winner of The Story Prize, for which Riverhead author Danielle Evans is a finalist for her book, THE OFFICE OF HISTORICAL CORRECTIONS , will be announced on March 10.
Posted: February 12, 2021