Asha Lemmie Interviewed about Her Debut Novel by Adriana Trigiani via Facebook (12/8)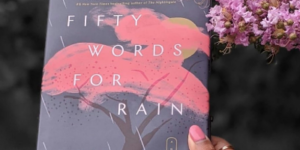 Asha Lemmie, author of FIFTY WORDS FOR RAIN (Dutton), will be interviewed by bestselling author Adriana Trigiani via Facebook on Tuesday, December 8 at 6:00pm (ET).
Spanning decades and continents, FIFTY WORDS FOR RAIN is a dazzling debut novel about the ties that bind, the ties that give you strength, and what it means to be free in this coming-of-age story about a young woman's quest for acceptance in post-World War II Japan.
Kyoto, Japan, 1948. "Do not question. Do not fight. Do not resist." Such is eight-year-old Noriko "Nori" Kamiza's first lesson. She will not question why her mother abandoned her with only these final words. She will not fight her confinement to the attic of her grandparents' imperial estate. And she will not resist the scalding chemical baths she receives daily to lighten her skin. When chance brings her older half-brother, Akira, to the estate that is his inheritance and destiny, Nori finds in him an unlikely ally with whom she forms a powerful bond—a bond their formidable grandparents cannot allow and that will irrevocably change the lives they were always meant to lead. Because now that Nori has glimpsed a world in which perhaps there is a place for her after all, she is ready to fight to be a part of it—a battle that just might cost her everything.
Asha Lemmie was born in Virginia and raised in Maryland. She attended school in Washington DC, where she was fortunate to be exposed to a wide variety of cultural influences. She developed a passionate interest in reading at the age of two, and has been writing stories since the age of five. After graduating from Boston College with a degree in English Literature and Creative Writing, she relocated to New York City where she worked in book publishing.
!! As a reminder, if you are posting to a personal or other non-PRH account you must include the hashtag #TeamPRH !!
Posted: December 7, 2020