At WONDER-filled YALLFest, RHCB Raises $10,000 for RAICES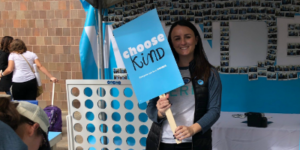 At last month's 8th annual YALLFest – one of the largest teen book festivals in the world, bringing some 70 authors and 12,500 fans to Charleston, South Carolina — Random House Children's Books colleagues asked attendees to pose with branded WONDER march signs for the WONDER photo wall.
For every photo taken, RHCB offered to donate $5 to the Refugee and Immigrant Center for Education and Legal Services (RAICES). With about 1,000 photos collected, $5,000 is being donated to RAICES; adding a match from Penguin Random House, that's $10,000!
Random House Children's Books was pleased with the results of this activation, and attendees were happy to see everyone working toward such a great cause on behalf of WONDER and the Choose Kind message.
In the RHCB booth, giveaways included WONDER chapter samplers, movie posters, and stickers for celebrating World Kindness Day. RHCB also hosted a branded "corn hole" and "four-in-a-row," then set off a flurry of confetti when WONDER author R.J. Palacio came by.
Enjoy some of the photos taken at the Random House Children's Books YALLFest booth and WONDER Wall.
Posted: December 12, 2018