Atwood, Jacob, Nault and Ware Nominated for Eisner Awards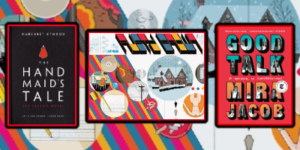 Comic-Con has announced the nominations for the 2020 Will Eisner Comic Industry Awards, with Penguin Random House authors earning nominations in six categories. Named for the pioneering comics creator and graphic novelist Will Eisner, the Eisner Awards are considered the "Oscars" of the comic book industry.
One World author Mira Jacob, creator of the acclaimed graphic memoir, GOOD TALK, was nominated in three categories: Best Short Story, Best Reality-Based Work, and Best Writer/Artist.
Chris Ware's RUSTY BROWN (Pantheon) claimed nominations for Best Graphic Album – Reprint and Best Publication Design.
Margaret Atwood's THE HANDMAID'S TALE: The Graphic Novel (Nan A. Talese/Doubleday) adapted and illustrated by Renee Nault, was nominated for Best Adaptation from Another Medium.
Congratulations and good luck to our authors and illustrators, as well as their editors and publishers.
To see the complete list of nominations, click here.
Voting for the Eisner Awards is held online, and the ballot is available at www.eisnervote.com. All professionals in the comic book industry are eligible to cast votes. The deadline for voting is June 18. The results will be announced in July (date to be determined).
Posted: June 8, 2020