Author Gin Phillips Talks About Her New Novel and Making a Difference via Facebook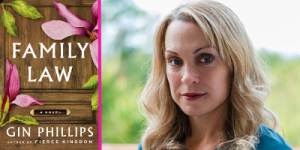 Gin Phillips will be discussing her new novel, FAMILY LAW (Viking), with Ashley Wurzbacher at a virtual event hosted by Thank You Books (Birmingham, AL) via Facebook on Thursday, May 13 at 8:00 pm (ET).
In FAMILY LAW, when an ambitious female lawyer becomes the victim of harassment, she must decide what's more important: her family's safety or the rights she's fighting for? Set in Alabama in the early '80s, the narrative follows a young lawyer, Lucia, who is making a name for herself at a time when a woman in a courtroom is still a rarity. She's received plenty of threats for her work extricating women and children from troubled relationships, but her own happy marriage has always felt far removed from her work.
When her mother's pending divorce brings teenaged Rachel into Lucia's orbit, Rachel finds herself captivated not only with Lucia, but with the change Lucia represents. Rachel is out-spoken and curious, and she chafes at the rules her mother lays down as the bounds of acceptable feminine behavior. In Lucia, Rachel sees the potential for a new path into womanhood. But their unconventional friendship takes them both to a crossroads. When a moment of violence–a threat made good–puts Rachel in danger, Lucia has to decide how much her work means to her and what she's willing to sacrifice to keep moving forward.
Addressing mother-daughter relationships and what roles we can play in the lives of women who aren't our family, this novel examines how we shape each other and how we can make a difference. The strong yet tender-hearted female leads of FAMILY LAW illuminate a new kind of timeless Southern fiction–atmospheric, rich, and with quietly surprising twists and nuances all its own.
Gin Phillips is also the author of The Well and the Mine, winner of the 2009 Barnes and Noble Discover Prize in Fiction, and Come In and Cover Me. She recently wrote her debut children's book, The Hidden Summer. She lives in Birmingham, Alabama, with her husband, children, and dog.
!! As a reminder, if you are posting to a personal or other non-PRH account you must include the hashtag #TeamPRH !!
Posted: May 12, 2021