Author/Illustrator Emily Winfield Martin Extends Her Brand With "Wonderful Things" Tea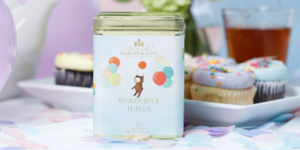 Emily Winfield Martin, author and illustrator of the #1 New York Times bestseller, THE WONDERFUL THINGS YOU WILL BE, and forthcoming THIS IS A GIFT FOR YOU (on-sale September 14, 2021 from Random House Books for Young Readers), is extending her Dream World lifestyle brand to custom tea in collaboration with Harney & Sons Fine Teas.
Available for purchase now, the new "Wonderful Things" blend is the perfect treat for the parent-to-be or any lover of tea! Created in partnership with Winfield Martin, the Harney & Sons tea is available in three beautiful tins adorned with the whimsical style of her story books.
Says Winfield Martin, "I have loved tea since I was a little girl, and Harney & Sons is my favorite tea company. Their beautiful tins and exquisite tea grabbed me with their distinctive magic years ago. So when the chance came, it was a dream to collaborate with them! Some inspiration even came from the notes of my favorite tea (a London Fog with Harney Earl Grey & cream) and you can see the echoes of that in the Wonderful Things tea and its gentle notes of bergamot, citrus, & vanilla. I'm so happy for this collaboration to be out in the world. I imagine the three beautiful tins at baby showers & alongside plates of sugar cookies at tea parties with little friends."
Rachel Bader, Director of Licensing, says of the collaboration, "This partnership is a dream come true as it so organically extends the classic feel of Emily's picture books, The Wonderful Things You Will Be and This Is A Gift for You. Her debut picture book, The Wonderful Things You Will Be, has been a mainstay at #1 on the New York Times bestseller list since its publication in 2015, and just as its words have brought smiles to, and warmed the hearts of countless families and new parents, we know this special branded Harney & Sons tea will do the same."
Dream World is an original new lifestyle brand inspired by #1 New York Times bestselling author/illustrator Emily Winfield Martin that unlocks a world of wonder for adults and children alike. This is world where you can be your wonderful and wholly unique self —a world where normal and quirky, past and present, fantasy and reality, humor and gravitas coexist. Other Dream World products include plush, quilting fabric, and baby apparel, among other items, and the brand continues to expand as Martin's work grows in popularity.
Posted: August 23, 2021