Author Jason Mott Listens to His Own True Voice, Writes HELL OF A BOOK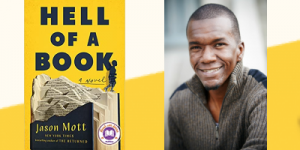 Our new Igloo Book Buzz selection is Jason Mott's HELL OF A BOOK, published by Dutton today. It was also just announced that the book was selected as a Read with Jenna TODAY Show Book Club pick.
In this transformative novel, a Black author sets out on a cross-country publicity tour to promote his bestselling novel. That storyline drives HELL OF A BOOK and is the scaffolding of something much larger and urgent: since Mott's novel also tells the story of Soot, a young Black boy living in a rural town in the recent past, and The Kid, a possibly imaginary child who appears to the author on his tour.
Jason Mott shares, "HELL OF A BOOK was essentially inspired by a lifetime of feeling like 'The Hunted Other.' It's a novel that came into being because I had grown tired of not speaking out, and also tired of not listening to my own, true voice."
"Working with Jason on his novel has been an extraordinary blessing," says John Parsley, VP & Editor-in-Chief, Dutton. "An urgent book with a big heart, HELL OF A BOOK asks readers to approach it with open eyes and minds and rewards them in big ways, as the multi-layered characters are slowly revealed."
Two fellow Penguin Random House authors offer their praise:
"Hell of a Book more than lives up to its title. Playful, searching, raw and necessary, this writing, this voice, this novel twisted me up and turned me inside out, dazzled me, surprised me and moved me."—Charles Yu, author of National Book Award winner Interior Chinatown
"What a powerful, timely, and provocative novel. Jason's ability to take on deeply important themes with both poignancy and humor makes for an extraordinary emotional roller coaster of a read, and I tore through this profoundly moving novel in a day but have been thinking about it ever since. Thank you, Jason Mott, for sharing this story with the world."—Abi Daré, New York Times bestselling author of The Girl with the Louding Voice
Posted: June 29, 2021