Authors Abdurraqib, Alarcón, Betts, Kendi Are 2021 MacArthur "Genius Grant" Winners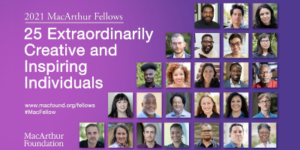 Penguin Random House authors Hanif Abdurraqib, Daniel Alarcón, Reginald Dwayne Betts and Ibram X. Kendi are among the 2021 MacArthur Fellows, announced this week by the MacArthur Foundation. This highly regarded fellowship (often referred to as the "Genius Grant") comes with a cash award of $625,000, paid out over five years to people who "show exceptional creativity in their work and the prospect for still more in the future."
Click on the names of our 2021 MacArthur Fellows below to watch videos produced by the MacArthur Foundation for each person.
Random House author Hanif Abdurraqib, for "forging a distinctive style of cultural and artistic criticism through the lens of popular music and autobiography." A poet, essayist, and cultural critic, Abdurraqib's most recent book is A LITTLE DEVIL IN AMERICA: Notes in Praise of Black Performance, longlisted for a 2021 National Book Award.
Riverhead author Daniel Alarcón, for "chronicling the social and cultural ties that connect Spanish-speaking communities across the Americas." His novel, AT NIGHT WE WALK IN CIRCLES, was a finalist for the 2014 PEN-Faulkner Award. Among his other books is a story collection, THE KING IS ALWAYS BROKEN.
Avery author Reginald Dwayne Betts, for "promoting the humanity and rights of individuals who are or have been incarcerated." His memoir, A QUESTION OF FREEDOM: A Memoir of Learning, Survival, and Coming of Age in Prison, chronicles Betts's nine years behind bars in which he confronts profound questions about violence, freedom, crime, race, and the justice system.
One World author Ibram X. Kendi, for "advancing conversations around anti-Black racism and possibilities for repair in a variety of initiatives and platforms." Three of his books were #1 New York Times bestsellers: HOW TO BE AN ANTIRACIST (One World); Stamped: Racism, Antiracism, and You, co-authored with Jason Reynolds; and ANTIRACIST BABY, illustrated by Ashley Lukashevsky (Kokila/Penguin Young Readers).
Congratulations to our MacArthur Fellows "Geniuses."
To view the complete list of this year's MacArthur Fellows, click here.
The John D. and Catherine T. MacArthur Foundation supports creative people, effective institutions, and influential networks building a more just, verdant, and peaceful world. MacArthur is placing a few big bets that truly significant progress is possible on some of the world's most pressing social challenges, including over-incarceration, global climate change, nuclear risk, and significantly increasing financial capital for the social sector.
Posted: September 30, 2021