Authors and Readers #BooktheVote and Reach Millions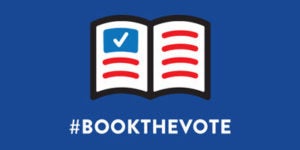 Since Book the Vote launched in early September, we have seen amazing enthusiasm and energy from our authors, readers, and employees who have spread the word about this campaign. Thanks to your great work, there have been 36 million unique web impressions for the hashtag #BooktheVote!
The Penguin Random House partnership with HeadCount has generated, to date, 127 registrations and 243 sign-ups for election alerts, which are some of the highest numbers for any HeadCount partnership. In total, the voting organization estimates that Penguin Random House is responsible for about 500 voter registrations.
With the November elections less than two weeks away, this non-partisan initiative comes at a critical time for encouraging readers to participate in the electoral process. While many states' voter registration deadlines have passed, you can still click this link to learn how to register: bit.ly/BookTheVote
HeadCount also registered people in person at events, like this one for Hank Green in Boston:
Astronaut and Penguin Random House author Scott Kelly got the word out too!
Partners like the Strand Book Store participated:
We also saw great posts from Penguin Random House authors Anand Giridharadas, Celeste Ng, Brad Meltzer, James Fallows, Tayari Jones, Chelsea Clinton, and many more.
Thank you to everyone who has participated!
For more materials, links, and information on how to get involved, click this link.
Posted: October 24, 2018