Ballantine Author Christy Lefteri Wins 2020 Aspen Words Literary Prize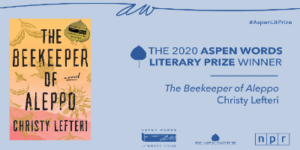 Christy Lefteri's THE BEEKEEPER OF ALEPPO (Ballantine Books) has won the 2020 Aspen Words Literary Prize, it was announced on Thursday, April 16. The $35,000 annual award is given to "an influential work of fiction that illuminates a vital contemporary issue and demonstrates the transformative power of literature on thought and culture."
Check out the Aspen Words website to watch a video of Lefteri finding out she's won, her acceptance speech, and her conversation with judge Esmeralda Santiago.
NPR.org ran a terrific interview with Lefteri about the prize, read it here.
Mohsin Hamid's EXIT WEST (Riverhead Books) won the inaugural Aspen Words Literary Prize in 2018.
Posted: April 24, 2020