Ballantine to Publish Mel Brooks' Memoir in November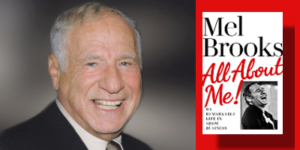 Ballantine Books has acquired famed director, producer, writer and actor Mel Brooks' memoir, ALL ABOUT ME! My Remarkable Life in Show Business, which the imprint will publish in the U.S. on November 30. An audiobook edition will be released simultaneously by Penguin Random House Audio. Century, an imprint of Penguin Random House UK, will release the title in the United Kingdom and Commonwealth. The world publishing rights for the book were acquired by Ballantine Books Executive Editor Pamela Cannon from Jonny Geller of Curtis Brown.
At 95, the legendary Brooks continues to set the standard for comedy across television, film, and the stage. For the first time, this EGOT (Emmy, Grammy, Oscar, Tony) winner shares his story in his own words.
"It was joyous and at times bittersweet writing this book and reliving the peaks and valleys of my incredible journey from Brooklyn to Hollywood to Broadway," Brooks said. "I hope fans of comedy will get a kick out of the stories behind my work, and really enjoy taking this remarkable ride with me."
ALL ABOUT ME! charts Brooks' rise from a Depression-era kid in Brooklyn to the recipient of the National Medal of Arts. Whether serving in the United States Army in World War II, or during his burgeoning career as a teenage comedian in the Catskills, Mel was always mining his experiences for material, always looking for the perfect joke. His iconic career began with Sid Caesar's Your Show of Shows, where he was part of the greatest writers' room in history, which included Carl Reiner, Neil Simon, and Larry Gelbart.
After co-creating both the mega-hit 2000 Year Old Man comedy albums and the classic television series Get Smart, Brooks' stellar film career took off. He would go on to write, direct, and star in The Producers, The Twelve Chairs, Blazing Saddles, Young Frankenstein, Silent Movie, High Anxiety, and Spaceballs, as well as produce groundbreaking and eclectic films, including The Elephant Man, The Fly, and My Favorite Year. Brooks then went on to conquer Broadway with his record-breaking, Tony-winning musical, The Producers.
Readers will gain insights into the inspiration behind the ideas for his outstanding collection of boundary-breaking work, and details about the many close friendships and collaborations Brooks had, including those with Sid Caesar, Carl Reiner, Gene Wilder, Madeleine Kahn, Alfred Hitchcock, and his late wife, Anne Bancroft, the love of his life.
Posted: August 6, 2021