Ballantine's Sara Weiss Tells Why Linda Holmes's RomCom Novel is Your Next Summer Read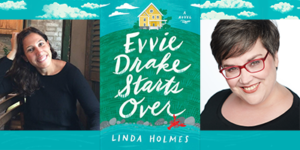 Linda Holmes, the host of NPR's "Pop Culture Happy Hour" podcast, has written a sparkling debut novel, EVVIE DRAKE STARTS OVER, published by Ballantine, set in a sleepy seaside town in Maine, about an unlikely relationship between a young woman who's lost her husband and a major league baseball pitcher who's lost his game. Meet recently widowed Eveleth "Evvie" Drake, who rarely leaves her large, painfully empty house nearly a year after her husband's death in a car crash, and Dean Tenney, a former major league baseball pitcher, who can't throw straight anymore, and, even worse, he can't figure out why. Evvie and Dean must reckon with their current realities and their murky pasts—the friendships they've damaged, the secrets they've kept—but in life, as in baseball, there's always a chance—up until the last out.
In this "Three Questions for an Editor" Igloo interview, Ballantine Books Executive Editor Sara Weiss talks about how she discovered Linda Holmes, what attracted her to Linda's storytelling style and characters, the author/editor relationship they established, and why Sara thinks EVVIE DRAKE STARTS OVER will resonate with readers looking for a new romantic comedy to add to their beach book bag.
When and how did you connect with Linda Holmes and what were your initial impressions of her writing voice and storytelling style?
Years ago, (pre-Serial), I asked a friend to recommend podcasts to me and she told me I had to start with NPR's "Pop Culture Happy Hour," a roundtable discussion about all things pop culture hosted by lawyer-turned Television Without Pity recapper Linda Holmes. I binged every episode and became a die-hard PCHH fan. A few years after that, Linda began talking on-air about a novel she was writing and I knew her book would be something I'd want to read – and hopefully acquire. When the manuscript was officially submitted to me, I read it overnight and was thrilled to discover that everything I loved about Linda's writing, podcasting, and overall sensibility was evident in this book: there was wonderfully funny banter, an appreciation for the classic elements of romantic comedy while also a reinvention of some of the more tired tropes, and characters who were believably flawed, yet wonderfully generous and kind.
How would you describe the editor/author process between you and Linda as the finished novel was completed?
Linda is a dream to work with. A few months after I bought the novel, she and I met at a café in Midtown and spent about three hours discussing her book and what editorial work needed to be done. It was fun to get to know one another in person and to talk in so much depth about her book. After that, she went off to revise and we ultimately went through three drafts before declaring the book officially done. Linda listened to all of my suggestions and yet always stayed true to her vision – taking my notes when they felt right to her, and pushing back when she didn't agree with something. Her willingness to be open to revision and to work hard to get the book exactly right, while never losing her sense of humor or perspective, made the editorial process an unusually easy and fun one (at least for me!)
What aspects of EVVIE DRAKE STARTS OVER do you feel will resonate most strongly with readers?
EVVIE DRAKE STARTS OVER is, at heart, a romantic comedy and anyone who loves the genre will absolutely love this book. But what I think makes EVVIE unique is the way in which it explores many different types of relationships and how these relationships shift and change over time. As one Goodreads reviewer puts it: "This is the rarest of birds – a love story for adults. Not just a love story between two people, but a story about the love between friends, the love of family, and the love that you find for yourself by going through the hard stuff of living." I think that perfectly captures what makes this book so special. (It also has Maine, baseball, and a very cute puppy!)
Posted: June 25, 2019