Banned Books: One Author's Story
Attempts to ban or censor books from libraries and public schools are at an all-time high, the need to protect our right to read has never been greater. The American Library Association (ALA) documented 1,269 challenges in 2022, almost double the 729 compiled challenges of 2021 and the highest number recorded since the ALA began compiling this data more than twenty years ago. The ALA also reported that most books being targeted for censorship are written by and/or about members of the LGBTQ+ community or people of color. 
In early March, our very own author, Laurie Halse Anderson (SHOUT, CHAINS, and SPEAK) went to the Central Bucks School District board meeting in Pennsylvania, to challenge the district's ban on "sexualized content" in school libraries. Her books have long been a target of numerous book banning efforts across the country, including close to her own Pennsylvania home.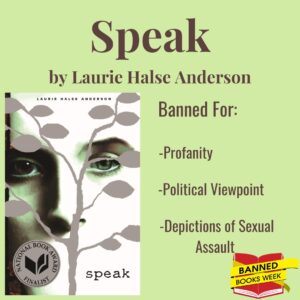 At the meeting, parents and constituents touched on their concerns, some citing passages from books they considered provocative, others emphasizing the lack of research proving that books cause physical or psychological harm. Almost two hours into the meeting, Anderson made her way to the front and courageously spoke to members of her community.   
"I know firsthand how hard it can be to speak up when bad things happen. Bad things happen to our kids much more than any of us want to admit," Anderson said. 
Opening up about her work as an author and the life events that she so often writes about in her books, Anderson quickly captured the attention of those in the room as she spoke about the benefits of having books in schools that touch on difficult topics. These meetings are often filled with parents, teachers, and school officials, but Anderson's point of view as an author is rarely shared in such a space. 
"Democracy is hard, my friends," she said. "We have to learn to get along with people we disagree with." 
At Penguin Random House, we are committed to defending the right to freedom of expression by advocating for our authors, and we commend Anderson for her bravery. For additional resources, please visit the Penguin Random House Banned Books Resource Hub,  Censorship Crisis Hotline, and PEN International Publisher's Circle.  
Penguin Random House supports equitable access to books through ongoing partnerships with and donations to a wide range of associations and nonprofit organizations, and we are always looking for new ways to fight against book bans and stand by our authors. If you have suggestions for us, an issue you would like to bring to our attention, reach out to bannedbooks@penguinrandomhouse.com.  
Posted: May 3, 2023