Barack Obama to Headline ALA Annual Conference & Exhibition Closing Session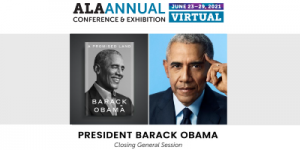 Former President of the United States Barack Obama will headline the upcoming ALA Annual Conference & Exhibition (Virtual) Closing Session. He will appear on Tuesday, June 29, 12:00 noon – 1 p.m. (CT), in conversation with Lonnie G. Bunch III, the 14th secretary of the Smithsonian and first African American appointed to the role. They will be introduced by Julius C. Jefferson, Jr., president of the American Library Association.
Mr. Obama will discuss his #1 New York Times bestselling book, A PROMISED LAND, the stirring first volume of his presidential memoirs that was released in November 2020 by Crown, an imprint of the Random House Publishing Group.
As secretary of the Smithsonian, Mr. Bunch oversees 19 museums, 21 libraries, the National Zoo, numerous research centers, and several education units and centers. Mr. Bunch was the founding director of the Smithsonian's National Museum of African American History and Culture. He is the first historian appointed to the role.
Registration for the ALA conference is open. ALA Annual Conference & Exhibition attendees will have access to more than 200 educational sessions in the areas of Library Services, Equity, Diversity, and Inclusion, Leadership, Teaching & Learning, Technology, Library Workplace, and more. Additionally, many of the News You Can Use series; interactive Discussion Groups; and President and Chair Programs provide an excellent opportunity for attendees to share thoughts amongst their peers.
The conference launches on Wednesday, June 23, with a full day dedicated to The Library Marketplace, showcasing as many as 300 exhibitors offering innovative resources for libraries; 11 presentation stages that will highlight notable and genre-specific keynotes; publisher-led spotlight sessions on new book titles; networking opportunities, giveaways, and more.
Posted: June 3, 2021