Barbra Streisand's Highly Anticipated Memoir Coming November 7, 2023
Viking is thrilled to announce that Barbra Streisand's memoir, MY NAME IS BARBRA, will be published on November 7, 2023. The memoir will be edited by Rick Kot. Barbra Streisand is a living legend, a woman who in a career spanning six decades has excelled in every area of entertainment, and this engrossing and delightful book will be eagerly welcomed by her millions of fans. Dozens of books have been written about Streisand, and now in MY NAME IS BARBRA, she tells her story in her own words.
Barbra Streisand's achievements as a singer, an actor, a director, a producer, a screenwriter, an author, and a songwriter have been rewarded with two Oscars; five Emmys; ten Grammys, including the Legend Award and the Lifetime Achievement Award; a Tony Award; eleven Golden Globes, including the Cecil B. DeMille Award; three Peabody Awards; and the Directors Guild of America Award for her 1994 TV special, Barbra: The Concert. With Yentl, she became the first woman to direct, produce, write, and star in a major motion picture, and the first woman to win a Golden Globe Award for Best Director. Likewise, she is the first female composer to receive an Academy Award for Best Original Song—"Evergreen (Love Theme from A Star Is Born)."
Barbra has also received the American Film Institute Life Achievement Award and is a Kennedy Center Honoree. She's been awarded the National Medal of Arts from President Clinton, France's Légion d'honneur from President Sarkozy, and America's highest civilian honor—the Presidential Medal of Freedom—from President Obama.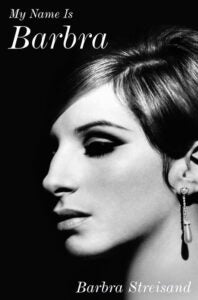 Throughout her life, Barbra has been a passionate advocate for the causes she believes in. She created the Streisand Foundation in 1986 to advance her philanthropic interests, ranging from women's rights, voting rights, and human rights to protecting our environment, preventing nuclear proliferation, and preserving our democracy. With a major gift, she created the Barbra Streisand Women's Heart Center at Cedars-Sinai to support research and raise awareness about women's heart disease. Recently, she has endowed the Barbra Streisand Institute at UCLA to examine the critical issues of our time, such as truth in the public sphere, the impact of climate change, the dynamics of intimacy and power between women and men, and the impact of art on the culture. It will be a living legacy, building on her decades of work as an artist, an activist, and a philanthropist.
To be published by Penguin Random House UK (Century); Droemer (Germany); Hugo & Cie (France); Bruna (Holland); and Norstedts (Sweden).
To learn more about MY NAME IS BARBRA, please visit PRH.com.
Posted: February 8, 2023