"Be My Cover" Exhibit: Watch Video of Our Designers In Conversation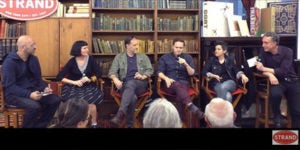 Penguin Random House, in partnership with Strand Book Store, recently presented an exhibit of 100 notable book covers created by a select group of Penguin Random House creative designers and art directors in a special "Be My Cover" exhibit in the Rare Book Room at Strand Book Store in New York City.
To celebrate the exhibit, Penguin Random House presented a conversation with acclaimed designers Peter Mendelsund, Jaya Miceli, Oliver Munday and Helen Yentus on May 14, when the featured guests were able to discuss their experiences designing for books.
The sold-out event was moderated by exhibit curators Fabrizio La Rocca and Roberto Maria Clemente. Many Penguin Random House designers, past and present, were able to attend the panel, along with excited book and design lovers from across NYC. Topics covered include favorite designs, common pitfalls when designing for books, and how to keep their creative juices flowing.
In case you missed it, the Be My Cover exhibit will be on display in the lobby at 1745 Broadway during Company Week (June 18 – 22).
To read a transcript of the Be My Cover Strand conversation with our designers, click here. Watch a video of the event below.
Posted: May 31, 2018