BECOMING Tops Barack Obama's Favorite Books of 2018 List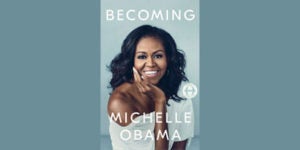 Before the end of 2018, former President Barack Obama shared some of the books, movies and music he found "most inspiring, thought-provoking or just plain loved," posting his year-end list on Facebook.
Topping Obama's stack of books of the year was BECOMING by Michelle Obama – "obviously my favorite!" Other titles tabbed by the former president published by Penguin Random House imprints included: AMERICANAH by Chimamanda Ngozi Adichie; IN THE SHADOW OF STATUES: A White Southerner Confronts History by Mitch Landrieu; THE RETURN: Fathers, Sons and the Land In Between by Hisham Matar; WARLIGHT by Michael Ondaatje; and EDUCATED by Tara Westover.
To view Barack Obama's Facebook post and complete "best of 2018" lists, click here.
Posted: January 2, 2019