"Before Breakfast" Podcast Hosted by Author Laura Vanderkam Crosses 1 Million Downloads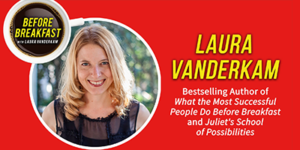 Before Breakfast, a podcast hosted by Portfolio author Laura Vanderkam and developed in partnership with How Stuff Works and PRH's Author Platforms team, has reached more than 1 million downloads just one month after its release.
In bite-sized episodes that air daily, Monday through Friday, Vanderkam shares time management strategies and advice to help listeners "take their day from great to awesome." Her mission is to offer practical tools that will make people feel less busy and accomplish more of what they want to do, thereby helping listeners "make the most of their time, both at work and at home."
Before Breakfast was conceived as a complement to Vanderkam's books—which include WHAT THE MOST SUCCESSFUL PEOPLE DO BEFORE BREAKFAST, 168 HOURS, OFF THE CLOCK, and I KNOW HOW SHE DOES IT. Drawing on her deep expertise in the fields of productivity and time management, Vanderkam delivers a different tip or tactic in each episode. Her advice ranges from how to watch TV wisely, avoid the 2pm slump, and exercise during the workday, to why you should go to happy hour, how to plan your weeks on Fridays, and why you should quit the snooze button.
Before Breakfast was an immediate hit, vaulting into the Top 50 on Apple Podcasts even before the first episode dropped, and listeners love the format and content. Their comments have included: "I love getting a little boost from Laura every weekday morning"; "Love the bite-sized clips that are easy to fit into even a short car ride"; and "In less than ten minutes I can glean a golden nugget that has the potential to release greater productivity." One fan of the author even wrote, "I love this…it's like getting small bites of Laura's books!"
The launch of Before Breakfast was timed to coincide with the release of Vanderkam's latest book, JULIET'S SCHOOL OF POSSIBILITIES,a parable about the power of priorities published by Portfolio in March and available from Penguin Random House Audio as well.
It garnered major media attention, including CBS This Morning, Fast Company, Hallmark's Home & Family, and much more. Laura is also represented by the PRH Speakers Bureau, which has booked her for the keynote address at the MBA Career Services & Employers Alliance' Global Conference in June, among other bookings this year.
Want to transform your weekday mornings? You can subscribe to Before Breakfast on Apple Podcasts, the iHeartRadio app, or wherever you listen to podcasts.
Posted: May 3, 2019