Behind the Pages of DUNGEONS & DRAGONS ART & ARCANA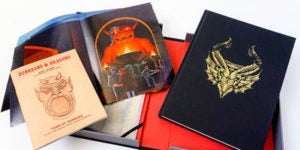 DUNGEONS & DRAGONS ART & ARCANA: A Visual History, published on October 23 by Ten Speed Press, is an illustrated guide to the history and evolution of the iconic role-playing game told through the paintings, sketches, illustrations, and visual ephemera behind its creation, growth, and continued popularity. The superstar author team of Michael Witwer, Kyle Newman, Jon Peterson and Sam Witwer created the most comprehensive collection of D&D imagery ever assembled. There are more than 700 pieces of artwork—from each edition of the core role-playing books, supplements, and adventures; as well as Forgotten Realms and Dragonlance novels; decades of Dragon and Dungeon magazines; and classic advertisements and merchandise; plus never-before-seen sketches, large-format canvases, rare photographs, one-of-a-kind drafts.
In this "Behind the Pages" Igloo interview, the DUNGEONS & DRAGONS authors discuss their passion for the game and its colorful history, what was involved in putting this book together, the project's personal rewards, and their views on why Dungeons & Dragons is experiencing a resurgence in popularity.
What inspired you to turn your passion for Dungeons & Dragons into a book?
This book began with an Amazon search somewhere around May of 2016. As a lifelong fan of Dungeons & Dragons who had just begun playing again, Kyle wanted to buy a book about the game's storied art and history, but that tome didn't exist… yet. He decided right then that he wanted to create it.
There was one problem: he was a "storyteller" by trade, but had never written a book, so he didn't know where to begin. He had recently read Michael Witwer's Empire of Imagination, which cinematically detailed the life of D&D founder Gary Gygax and decided to reach out to gauge his interest in collaboration. Kyle was close with his brother Sam Witwer and knew Michael peripherally but had never had a proper conversation with him. Michael was thrilled by the prospect and quick to partner. We both knew a venture of this magnitude would only benefit from a team of authors – one that could comprehensibly tell the fabled game's long history from as many angles as possible. We were quick to add the indispensable Jon Peterson to our team – a veritable expert on the history of modern gaming whom we all learned from daily. Completing the council was Michael's brother, and Kyle's good friend, Sam Witwer (actor and fellow Star Wars / D&D fanatic), who had significant experience as a Dungeon Master across several editions.
When Michael reached out to his contacts at Wizards of the Coast, he was thrilled to report that they had gotten a separate inquiry of their own from Ten Speed Press regarding a desire to partner on a licensed book. Wizards arranged the connection between the author team and Ten Speed, who shared in the team's enthusiasm, and we were off.
What have been the most rewarding aspects of this project?
This project connected us with so many people in the D&D community we would never have gotten to meet otherwise. Artists who were just teenagers when D&D first came out, who got paid a couple bucks per drawing by Gary Gygax to clue us in on what a hippogriff might look like, or a beholder, or a mind flayer. We got to visit people who own some of the most iconic pieces of art in the history of the game, who let us into their homes to take pictures. We interviewed game designers, who helped us understand the internal and external challenges of the various eras and why they did the things they did. D&D is a social game, it's all about who you get to play the game with, and a project like this was all about getting to know each other and the amazing people who made the D&D game happen.
All this led to us being able to tell a previously untold story–the complete 45-year story of D&D as told through its incredible visuals, from original art and draft materials to advertising, product and arcane ephemera. One element that stands out is finding and publishing all five of the Advanced Dungeons & Dragons wraparound covers from the late 1970s and early 1980s. These are super iconic pieces that were the covers of the books when the game began to achieve mainstream popularity and they all now reside in private collections. These pieces had never been published in their native form, always obscured by trade dress, cover text and the spine itself, and had been victims of a mediocre printing process, so putting these original pieces out there at this quality is particularly rewarding. We literally got chills when we saw some of these pieces in this way for the first time.
Why do you think D&D has been enjoying a resurgence in popularity?
Because at the end of the day, people want to choose their own adventure. Video games indoctrinate us into fantasy gaming pretty early these days – we learn about hit points, experience levels, all of that from computer games that in sales terms are blockbusters that make Hollywood jealous. But those games have to cast a wide net. When you sit down with four or five friends around a table to play D&D, you get to have your own game. You get the basic idea because you've played Warcraft, or the Elder Scrolls, or Dragon Age, or the Witcher. But you can take the core systems behind those games back to the table and make your own game out of them. D&D has always been about unlocking your own creativity, and it certainly doesn't hurt that D&D opened up a new world for so many creators that have gone on to great success in the arts and sciences today–those D&D veterans have collectively become the game's most powerful evangelists.
Another huge factor is accessibility. The game has never been as accessible as it is today, due largely to two factors: 1) a 5th edition ruleset that has simplified many aspects of the game and eliminated some previous barriers to entry and 2) the popularity of live-play online shows and podcasts such as Critical Role and The Adventure Zone. It has always been really challenging to explain a role-playing game to someone who hasn't witnessed one before; now, anyone can go online and watch one of these shows for five minutes and get exactly what this is all about.
Posted: October 24, 2018