Berkley Authors Jessica P. Pryde and Jasmine Guillory to Discuss BLACK LOVE MATTERS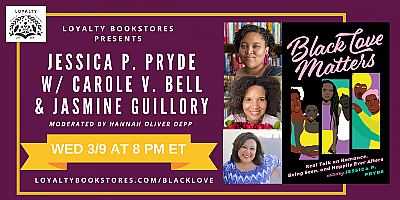 Jessica P. Pryde will be in conversation with fellow Berkley author Jasmine Guillory and book critic Carole V. Bell to discuss BLACK LOVE MATTERS: Real Talk on Romance, Being Seen, and Happy Ever Afters (Berkley), during a virtual event hosted by Loyalty Bookstore via Crowdcast tonight,, March 9 at 8:00 pm (ET).
To register for this event, click here.
BLACK LOVE MATTERS is an anthology of essays written by a diverse array of Black voices, exploring the different ways Black romance is showcased in media and how those depictions have molded their own romantic stories. Whether personal reflection or cultural commentary, these essays delve into Black love now and in the past, including topics from the history of Black romance to social justice and the Black community to the meaning of desire and desirability.
In this collection, Pryde is joined by Carole V. Bell, Sarah Hannah Gomez, Jasmine Guillory, Da'Shaun Harrison, Margo Hendricks, Adriana Herrera, Piper Huguley, Kosoko Jackson, Nicole M. Jackson, Beverly Jenkins, Christina C. Jones, Julie Moody-Freeman, and Allie Parker to share their experiences.
Jessica P. Pryde is a Contributing Editor for Book Riot, where she co-hosts the When In Romance podcast and writes about all things book-related. She's particularly interested in stories that link love and social justice and will always advocate for the underrepresented to get their happy ending. BLACK LOVE MATTERS is Pryde's first book.
!! A reminder: You can share this feature. If you are posting to a personal or other non-PRH account you must include the hashtag #TeamPRH !!
Posted: March 9, 2022