Berkley Authors Radhika Sanghani and Jen Frederick Virtually Discuss Their New Romance Novels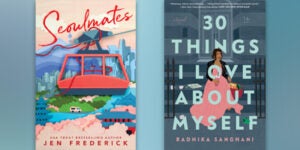 Radhika Sanghani, author of 30 THINGS I LOVE ABOUT MYSELF (Berkley), and Jen Frederick, author of SEOULMATES (Berkley), will be in conversation about their new romance novels at a virtual event hosted by the Ripped Bodice Bookstore via Facebook on Wednesday, January 19 at 8:00 pm (ET).
To register, click here.
In 30 THINGS I LOVE ABOUT MYSELF, when Nina Mistry's life hits rock bottom, she decides to change her stars by falling in love…with herself—a hilarious, heartfelt story from outrageously funny novelist Radhika Sanghani. Nina didn't plan to spend her thirtieth birthday in jail, yet here she is in her pajamas, locked in a holding cell. There's no Wi-Fi, no wine, no carbs—and no one to celebrate with. Just as Nina falls into despair, a book lands in her cell: How to Fix Your Shitty Life by Loving Yourself. It must be destiny. With literally nothing left to lose, Nina makes a life-changing decision to embark on a self-love journey. By her next birthday, she's going to find thirty things she loves about herself.
In SEOULMATES, a Korean-American adoptee fights to be with the one she loves while coming to terms with her new identity in this enthralling romantic drama and sequel to Heart and Seoul by USA Today bestselling author Jen Frederick. When Hara Wilson lands in Seoul to find her birth mother, she doesn't plan on falling in love with the first man she lays eyes on, but Choi Yujun is irresistible. If his broad shoulders and dimples weren't enough, Choi Yujun is the most genuine, decent, gorgeous guy to exist. Too bad he's also her stepbrother.
Radhika Sanghani is a journalist for the Daily Telegraph, where she specializes in writing about women and women's issues. She has an MA in newspaper journalism from City University London, a BA in English literature from University College London, and recently came in second in GQ's Norman Mailer student writing competition. She is also the author of Virgin and Not That Easy.
Jen Frederick is a Korean adoptee living in the Midwest with her husband, daughter, and rambunctious dog. Under the psuedonym Erin Watt, Frederick has co-written two #1 New York Times bestselling novels.
!! A reminder: You can share this feature. If you are posting to a personal or other non-PRH account you must include the hashtag #TeamPRH !! 
Posted: January 18, 2022