Berkley Romance Authors kc dyer and Julia London Talk About Their Careers and New Novels via Facebook Live (8/28)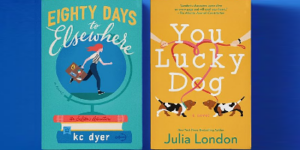 Berkley Romance authors kc dyer, author of EIGHTY DAYS TO ELSEWHERE, and Julia London, author of YOU LUCKY DOG, will engage in a live discussion about their careers and new novels via Facebook Live on Friday, August 28 at 7:00pm (ET).
Dyer's EIGHTY DAYS TO ELSEWHERE is "The Amazing Race" meets Around the World in 80 Days as a woman desperate to save her family bookstore falls for her competition.
kc dyer resides in the wilds of British Columbia where she likes to walk in the woods and write books for teens and adults. Before EIGHTY DAYS TO ELSEWHERE, her most recent novel for adults is Finding Fraser, a romantic comedy published by Berkley Books. For teens, kc's most recent work is Facing Fire, a sequel to the her novel, A Walk Through a Window, published by Doubleday.
In London's new romantic comedy YOU LUCKY DOG, an accidental dog swap unleashes an unexpected love match.
Julia London is the New York Times, USA Today, and Publishers Weekly bestselling author of numerous romance novels and women's fiction. She is also the recipient of the RT Bookclub Award for Best Historical Romance and a six-time finalist for the prestigious RITA award for excellence in romantic fiction.
!! As a reminder, if you are posting to a personal or other non-PRH account you must include the hashtag #TeamPRH !!
Posted: August 27, 2020