Berkley's Cindy Hwang on Editing Karen White's New Kind of Romance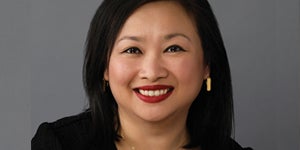 This Three Question for an Editor series interview features Cindy Hwang, Vice President, Editorial Director, Berkley, who takes us inside her work with New York Times bestselling author Karen White, with a focus on Karen's latest novel, THE NIGHT THE LIGHTS WENT OUT, which Berkley is publishing on Tuesday, April 11. Cindy began her career as the assistant to Berkley's Editor-in-Chief in 1994 and has been fortunate to work with some outstanding authors through the years, including Christine Feehan, Jayne Ann Krentz/Amanda Quick, Sylvia Day, Maya Banks, Nalini Singh and Karen White – who offers her personal comments about working with Cindy at the conclusion of this article.
As the editor of bestselling books by many authors, what do you find are characteristics that Karen White brings to the page that distinguishes her in the marketplace?
Karen has a very distinctive voice, and it's a voice that stays with readers.  I didn't buy Karen's debut novel when it was first submitted to me, but I certainly remembered it and her voice.  And when years later I was sent Karen's new novel by her agent for consideration, I immediately recognized Karen's writing and remembered that first novel.  I believe many readers have become loyal readers of Karen because of her voice.  If I were blindfolded and only able to listen to my authors' writings, I think I would have the easiest time identifying Karen's by her words.  There's a certain lilt and flow to her sentences which really suit the southern setting of her novels.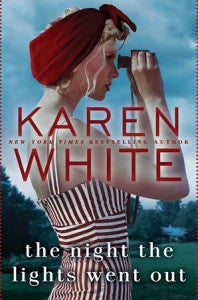 How does Karen's newest book, THE NIGHT THE LIGHTS WENT OUT, fit into the evolution of her writing career and what was your primary role throughout the editorial process?
I remember the first time Karen pitched me her idea for THE NIGHT THE LIGHTS WENT OUT, and I was excited because Karen wanted to set it close to her actual home in the Atlanta suburbs. But it was still very early in the process, and sometimes ideas don't pan out.  At that early stage, I always keep an open mind so Karen can use me as a sounding board to help develop her ideas.  What we've discovered from working together is that Karen needs to let an idea percolate for a long time—and that she often struggles with writing synopses during the proposal stage.  So now, when she's ready to show me her idea when it's developed enough, we skip the synopsis and go straight to the opening chapters.  And this is what we did for THE NIGHT THE LIGHTS WENT OUT.
I knew from those first chapters that Karen had written something very special and already created some fabulous characters, so I was confident that Karen was on the right track.  THE NIGHT THE LIGHTS WENT OUT has some of the key features that Karen likes to include in all her novels, mainly an exploration of women's relationships, both familial and not, but the very contemporary setting and characters definitely marked a change from some of Karen's previous novels which always had a strong historical element to the plots.  There's also one in THE NIGHT THE LIGHTS WENT OUT as well but it's clearly the contemporary story that is the focus, not the historical one.
Who do you see as Karen's most loyal readers and what about her books keeps them coming back for more stories, year after year?
We recently had an event in Charleston that brought readers around the country together to celebrate the publication of Karen's latest novel, THE GUESTS ON SOUTH BATTERY, and what we discovered was that Karen's readers are generational.  There were so many mothers & daughters who came together to meet Karen as well as groups of friends and just plain families.  And many traveled across the country for this event.  Many of them had read Karen for years and loved not only the southern setting of her novels but her focus on women and their relationships, as well as the carefully crafted mysteries that often provide the framework within which she can explore those relationships.
Karen White on Cindy Hwang and Berkley:
How would you describe your author/editor working relationship with Cindy and what have been the most important aspects of having Berkley as your book publishing home?
The one word that defines my working relationship with Cindy is trust.  She trusts my instincts when choosing elements of my books (characters, setting, POV), and I trust her to give an honest evaluation on a finished manuscript.  It's the perfect author/editor relationship:  Cindy never intrudes on the creative process, but is terrific at brainstorming ideas and has the brilliant ability to pinpoint what's not working even when I can't–and she's always right!
I've been working with Cindy and Berkley for 23 books in 11 years.  Every book I've ever written is now in print under the same logo.  I love the continuity of having my backlist with the same publisher as my current titles, and the longevity means that my entire Berkley team (editorial, marketing, sales, art and publicity) all recognize what a "Karen White" book is even before my latest manuscript lands on Cindy's desk.  This understanding has meant a concentrated effort to brand me and my books so that the rest of the world knows, too.
Posted: April 10, 2017