Berkley's Danielle Perez Probes the "Addictive" OUR HOUSE and its "Twisty Suspense"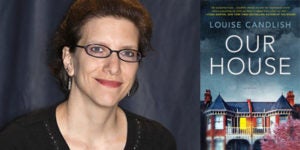 Louise Candlish's OUR HOUSE, published by Berkley on August 7, is an addictive novel of domestic suspense, where secrets kept hidden from spouses cause shocking surprises: When Fiona Lawson comes home to find strangers moving into her house, she's sure there's been a mistake. She and her estranged husband, Bram, have a modern co-parenting arrangement: "bird's nest" custody, where each parent spends a few nights a week with their two sons at the prized family home to maintain stability for their children. But the system built to protect their family ends up putting them in terrible jeopardy. In a domino effect of crimes and misdemeanors, the nest comes tumbling down.
In this Three Questions for an Editor interview, Berkley Executive Editor Danielle Perez discusses what drew her to author Louise Candlish and her remarkable page-turner, the process of weaving together the different threads of the story into a finished novel, and the kinds of readers that will fall under the spell of this "twisty suspense."
How were you introduced to author Louise Candlish and what was your initial reaction to her writing voice?
I had read Louise's two previous novels (the UK editions) and really enjoyed them. She has a very smooth writing style that pulls you into the story. She writes about suburban communities and regular people facing difficult situations. I pestered (nicely!) her agents to let me see the idea for her next novel early, and they shared with me the premise of a woman walking up to her house, only to discover that someone else is moving in—which I loved. I wanted to know how this woman's house got sold or stolen out from under her. It taps into a primal fear, of not being safe in your home, that it can be taken from you. Louise had never been published in the US, and OUR HOUSE was the right novel to be her debut here. It has a great premise, a compelling and addictive storyline, intriguing, complex characters, and a killer twist ending.
OUR HOUSE has a unique structure, with alternating perspectives, story presentations, and timelines. What was involved in the editor/author editorial process that shaped this narrative and resulted in the finished book?
The novel's structure is ambitious, with various elements used, including a Serial type of podcast called The Victim where the wife Fiona shares her side of the story, and a document from Bram, her estranged husband, where he presents his version of events. Louise had a strong handle on how she wanted to tell this story right from the beginning, and the different threads work together beautifully as the plot unfolds. Our editorial process was pretty straightforward, and Louise was a delight to work with. I read the novel multiple times, sharing thoughts and notes with her along the way, and she was very engaged with the whole process. Every revision she turned in amazed me, and brought the story to a place I wasn't expecting—which, as an editor, is always something you love!
What kinds of readers do you think OUR HOUSE will appeal to the most and why?
People who enjoy a peek behind the curtain of a marriage, the secrets husbands and wives keep from each other, will like that aspect of OUR HOUSE. Anyone who likes strong and twisty suspense will enjoy the addictive nature of this novel. It's how one event, one mistake, one misstep, can set off a chain of events that end up being devastating.
Posted: August 8, 2018