Bertelsmann Award Recognizing Our Integration Efforts Completes Tour of Westminster and Crawfordsville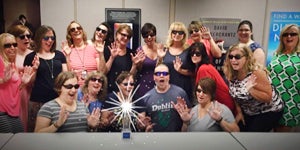 In June, Penguin Random House received the Bertelsmann Award for Strategy Execution for its outstanding work on the post-merger integration at this year's Bertelsmann Management Meeting in Germany, as we reported in an article on Igloo. The award has completed its tour of departments in Westminster and Crawfordsville, and what a terrific tour it was!  Over the course of 8 weeks, this stunning glass award was passed between all departments, including IT, In-House Sales, Human Resources, Finance and Fulfillment, in those locations.
Akin to how National Hockey League Stanley Cup-winning team players possess the prized trophy for one day each, our colleagues were able to enjoy and feel great pride in their work, accomplishments and this recognition during their time with this award. The only stipulation was that they take photos to commemorate their day with the award. A selection of these fun pics are featured with this article. Congratulations to all.
Crawfordsville Employees
Westminster Employees
Posted: August 23, 2016