Bertelsmann Corporate Responsibility Report 2016 Highlights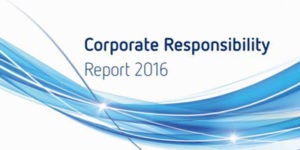 Bertelsmann's Corporate Responsibility Report 2016  has been released and presents insights into how our majority shareholder company and its divisions around the world embody and implement a wide range of CR programs and initiatives. Penguin Random House CR efforts are featured throughout this comprehensive report, which covers such key areas as diversity, intellectual property, society (giving back), the environment and education (learning).  Our division will release its own CR report by the end of the year.
Here are several Bertelsmann 2016 CR Report highlights:
Diversity
The motto of Bertelsmann's diversity strategy is "Business – Evolution – Focus" and spotlights three areas of action: gender, generation and internationality.  In 2016, Bertelsmann and its companies had operations in 50 countries around the world, with employees of 150 different nationalities.  Penguin Random House's CR strategy includes diversity as a focal point, reinforced with a Diversity & Inclusion Council and divisional diversity committees.
Intellectual Property
Bertelsmann is a home for artists, writers and creative talent across all fields and formats. The protection of intellectual property rights is the foundation of our business success.  In 2016, Bertelsmann continued to work proactively to build awareness regarding the value of intellectual property, strengthening copyright protection in the digital world, and taking action against the illegal dissemination of content.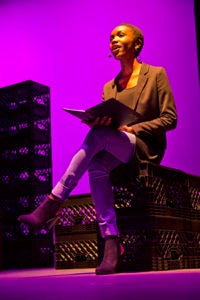 Bertelsmann enshrines freedom of speech and opinion, as well as editorial and journalistic independence, as fundamental principles for the production and dissemination of media products and content.  This CR report notes Penguin Random House's industry-leading support of Banned Books Week, when thousands of libraries, schools, bookstores and community centers across the nation and world unite to celebrate the freedom to read and exercise the right to do so without interference or censorship.
The report further notes how Penguin Random House is an active supporter and partner of PEN America and, through its own values, supports PEN's mission to advocate freedom of opinion, help marginalized groups to be heard and promote social dialogue. As part of the New York Creative Writing Awards initiative, Penguin Random House also awarded $2.5 million in prize money for college scholarships by the end of 2016.
Society (Giving Back) 
Donations to and sponsorships of charity projects support Bertelsmann's role as a good global corporate citizen. This anchors Bertelsmann as a responsible partner in the communities where its businesses are based. To celebrate Bertelsmann family owner Liz Mohn's 75th birthday, the company donated a newly designed children's section to Gütersloh's City Library.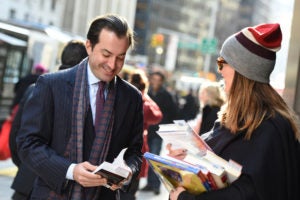 Penguin Random House colleagues actively participated in many volunteer activities in 2016.  By the end of 2020, the company will make 250,000 working hours available for employees to participate in company-organized initiatives, or to volunteer with organizations they personally support.  Among the organizations Penguin Random House supports are First Book, Save the Children and World Reader, which provide books to children and teenagers.
An important element in promoting reading and literacy is the provision of free reading material.  Bertelsmann's most prominent book donor is the Penguin Random House division. Its target is to donate more than 15 million books to schools and educational programs by 2020, to promote reading among children in need around the world. In addition, 3 million e-books will be made available to schools and libraries in sub-Saharan Africa by 2020. In 2016, Penguin Random House Grupo Editorial donated 10,000 books to Spanish prisons.
Environment
Bertelsmann's environmental management focuses on global climate protection and responsible, efficient natural resource management. Paper, still the most important resource for the print media business, is a special priority. Even in an increasingly digital media landscape, printed books, magazines, brochures and leaflets will continue to have their place, which is why resource conservation and waste prevention play a major role across the paper value chain.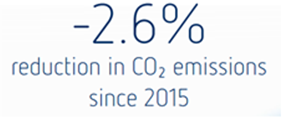 Paper consumption accounts for the largest share of Bertelsmann's total raw material consumption, with 86% of paper used in 2016 coming from recycled or certified sources.  To complement its Paper Policy, Bertelsmann strives to increase the share of recycled paper and paper from certified sustainable forestry to more than 90 percent by 2020.
Education (Learning)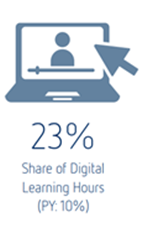 A company's success is determined by its employees' qualifications: With this belief in mind, Reinhard Mohn founded the Bertelsmann publishing company's private vocational school more than 50 years ago. This sets the cornerstone for the Group's present system of training in Germany and created the impetus for the establishment of a comprehensive system of corporate education. Helping to ensure employees' long-term employability by offering lifelong learning programs is both a commitment and a challenge for Bertelsmann.
Bertelsmann University has defined three objectives in its efforts to support employee performance: to build employee skills, strengthen the company and leadership culture, and develop the digital learning infrastructure. Progress is measured, among other things, using the digitalization rate (proportion of digital training hours). In 2016, it increased from 10 percent (2015) to 23 percent. Other results for 2016 included the rollout and internationalization of BU's "Creativity Bootcamp."
To view the complete Bertelsmann 2016 CR Report, click here.
Posted: November 2, 2017