Bertelsmann Foundation Presents "How to Fix Democracy" Video and Podcast Series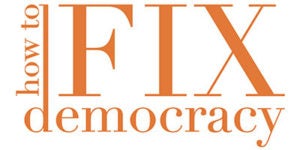 The Bertelsmann Foundation and Humanity in Action have teamed up with Andrew Keen – host, author and Silicon Valley entrepreneur – to present "How to Fix Democracy," a video and podcast series that features interviews on democracy's past, present and future. Launched in January 2019, this series explores why democracy is not delivering in Europe and North America and how it can be reinvigorated.
Seeking practical responses to threats facing democracies around the world, Keen interviews prominent thinkers, writers, politicians, technologists, and business leaders, including Norman Eisen, former Ambassador of the United States to the Czech Republic; Emory University Professor Carol Anderson; Tzipi Livni, former Vice Prime Minister and Minister of Foreign Affairs of Israel; political editor and columnist Adrian Wooldridge; and former US Secretary of State Madeleine Albright.
The interview with Albright looks at how the state of democracy has changed since she fled Czechoslovakia with her family after the Second World War. Albright also discusses the reemerging signs of fascism in the modern world, comparing this phenomenon to the gradual plucking of feathers. With regard to economic disparities, she believes in a "generous capitalism." Economic issues and social media are common themes, with Albright describing emerging technologies as a "double-edged sword," bringing information to the public instantly yet inhibiting honest, face-to-face conversation and understanding.
To watch and listen to "How to Fix Democracy" episodes, click here.
The Bertelsmann Foundation convened a Washington Symposium this past April, when leaders in business, politics, and culture came together to redefine democracy in the 21st century. Many discussed the waning interest in democracy as demonstrated by decreasing voter turnouts and fears of fraud, as well as education, inclusion, corruption, and economic inequalities.
The Bertelsmann Foundation, established in 2008, is the North American arm of the Germany-based Bertelsmann Stiftung. It was created to promote and strengthen transatlantic relationships. Through its research, debate forums and multimedia tools, the Foundation provides analysis and solutions to the most pressing economic, political and social challenges impacting the United States and Europe.
Humanity in Action is an international organization that educates, inspires action and connects a network of university students and young professionals committed to the values of pluralism, liberal democracy, social justice, human rights and civic engagement in their own communities and around the world.
Posted: June 18, 2019