Bess Kalb Shares Stories From Her Grandmother via Zoom (10/25)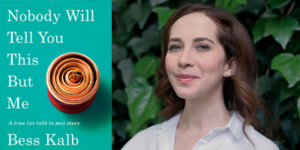 Bess Kalb will talk about her book, NOBODY WILL TELL YOU THIS BUT ME: A True (As Told to Me) Story (Knopf), in the Family Tales portion of the Festival of Jewish Books & Conversations, virtual edition, via Zoom on Sunday, October 25 at 1:00 pm (ET).
Kalb, Emmy-nominated TV writer and New Yorker contributor, saved every voicemail her grandmother Bobby Bell ever left her. Bobby was a force–irrepressible, glamorous, unapologetically opinionated. Bobby doted on Bess; Bess adored Bobby. Then, at ninety, Bobby died. But in this debut memoir, Bobby is speaking to Bess once more, in a voice as passionate as it ever was in life.
An Emmy-nominated writer for Jimmy Kimmel Live, Bess Kalb also earned her a Writer's Guild Award in 2016. She has also written for the Oscars and the Emmys. A regular contributor to The New Yorker's "Daily Shouts," her work has been published in The New Republic, Grantland, Salon.com, Wired, The Nation, and elsewhere. She lives in Los Angeles.
!! As a reminder, if you are posting to a personal or other non-PRH account you must include the hashtag #TeamPRH !!
Posted: October 21, 2020