Bestselling Author and "Family Secrets" Host Dani Shapiro Launches New Podcast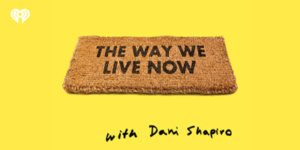 Today, Tuesday, April 14, bestselling author Dani Shapiro dropped a new podcast called The Way We Live Now. A daily show that will release fifteen-minute conversations four times a week, The Way We Live Now speaks directly to what we're all experiencing as we try to navigate a world turned upside-down by COVID-19. The project's aim is to examine, through personal stories, how life is unfolding as we're all isolated in our own homes.
As Dani says in the show's trailer: "Our lives have been disrupted, interrupted, upended. We're anxious, frightened, grieving, uncertain of the future…We're longing to connect. We can't gather. We can't break bread or raise a glass or give hugs. But that does not mean that we can't reach one another in ways that are both powerful and intimate." With this podcast, "we'll be reminded that we're not alone, that we're more alike than we are different, and that our voices, when shared, pierce the isolation and bring us comfort." Guests on The Way We Live Now will include: actress Jamie Lee Curtis; chef and restaurant owner Serge Madikians; Dr. Suzanne Koven, a primary care physician at Massachusetts General Hospital in Boston; Rabbi David Ingber; Senator Chris Murphy from Connecticut; grief therapist Claire Bidwell Smith; writer Anne Lamott; comedian Nick Kroll; Antonio Sersale, owner of an Italian hotel that has been in his family for generations, and many more.
Dani Shapiro is the author of the instant NYT bestselling memoir, INHERITANCE, now available in paperback from Vintage Books and on Penguin Random House Audio. Dani is also the host of Family Secrets, a podcast that just wrapped its third season of uncovering the extraordinary lessons the truths about family can teach us, and which has over 10M downloads. Family Secrets and The Way We Live Now were produced by the Author Platforms team in partnership with iHeart Radio. Both shows are available on Apple Podcasts, Spotify or wherever you get your podcasts.
You can subscribe to The Way We Live Now here.
Dani Shapiro photo: © Michael Maren
Posted: April 14, 2020