Bestselling Author Jim Collins Reunites with Portfolio Publisher Adrian Zackheim to Release BE 2.0 This December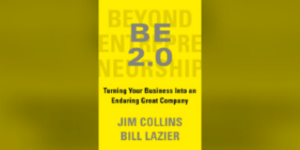 Jim Collins, bestselling author of Good to Great, will release an ambitious upgrade of his classic first book, Beyond Entrepreneurship: Turning Your Business into an Enduring Great Company. Portfolio President and Publisher Adrian Zackheim acquired World English Audio and eBook rights from Peter Ginsberg of Curtis Brown for simultaneous publication with Random House Business in the U.K. on December 1, 2020. The new edition will have a new title, BE 2.0.
"I was honored to have acquired and edited Good to Great," said Zackheim, "and I'm thrilled to again collaborate with Jim Collins. Jim is the most influential business thinker of our era and we couldn't be more excited to publish this revised edition at a critical time when businesses and organizations need his insights more than ever."
BE 2.0 is a new and improved version of the book that Jim Collins and Bill Lazier wrote years ago. In this new edition, Collins honors his mentor, Lazier, who passed away in 2004, and reexamines the original text of Beyond Entrepreneurship with his 2020 perspective. The book includes the original text as well as four new chapters and fifteen new essays, plus all-new findings and insights that extend far beyond the original edition.
Having invested more than a quarter century in rigorous research, Collins has authored or coauthored six books that have sold in total more than 10 million copies worldwide. He has become one of the world's leading thinkers on what makes great companies tick.
Posted: August 28, 2020