Bestselling YA Authors Nicola Yoon and David Yoon Launch Joy Revolution Imprint at RHCB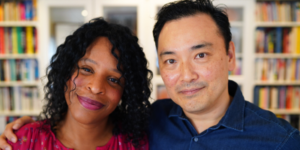 An imprint dedicated to young adult romance novels by people of color, about people of color, Joy Revolution will launch at Random House Children's Books, with #1 New York Times bestselling author Nicola Yoon (The Sun Is Also a Star and Everything, Everything) and bestselling author David Yoon (Frankly in Love) at the helm, it was announced by Barbara Marcus, President & Publisher, Random House Children's Books. The imprint will publish its first list in 2022. Wendy Loggia, Senior Executive Editor, Delacorte Press, will oversee the imprint, with an editor soon to be hired.
Joy Revolution was inspired by Nicola Yoon's own love of romance novels and romantic comedies, and her desire from a very early age to see herself, a Black woman, at the center of them. Nicola and her husband, David, were motivated to bring this vision to life now—in a media landscape that tends to erase the joys of people of color. Nicola sees an imperative need for more books where characters of color get to fall madly in love and experience their own happily-ever-afters.
"Nicola and David are leaders in the world of young adult literature, and the vision they have for Joy Revolution is so important," says Marcus. "All readers deserve to see themselves represented in the books they read. We're proud to partner with the Yoons in the YA romance genre, and cannot wait to see the first Joy Revolution list come to life."
On the inspiration for Joy Revolution, Nicola Yoon says: "I loved romantic comedies and romance novels when I was younger. Loved the meet-cutes, the breakups, the make-ups, and the final chase scene followed by the big speech declaring one person's love for the other. I had so many favorites: When Harry Met Sally, The Princess Bride, Before Sunrise, Say Anything, Moonstruck, not to mention an unreasonable number of Harlequin romance books. But as much as I loved those titles, they always left me with nagging questions: Where were the girls who looked like me? Didn't Black girls ever fall in love? Joy Revolution is not focused on stories of Black pain or immigrant struggle. Our books won't be issue-oriented or polemical. The Joy Revolution imprint is all about telling stories of big love. The characters in them have big ideas about the world and their place in it. I believe love stories are truly revolutionary. Because love has the power to unmake and remake the world."
David Yoon adds, "Nicki and I created Joy Revolution as an antidote for a media landscape where people of color have relentlessly been erased, except for those rare occasions when their pain can teach white people about racism. Joy Revolution is a safe haven for readers like me and Nicki to see themselves as the romantic hero, free to pursue their bliss however they want, unrestrained and unencumbered. After a literal lifetime of waiting for more romantic literary heroes who look like us—largely to no avail—we're thrilled to help take the lead in making sure those heroes' stories are told to a wide and beautifully diverse audience."
Nicola and David will partner with a soon-to-be-hired editor within Delacorte Press to acquire titles and curate the list, and will work with the team at Random House Children's Books throughout the publishing process to bring their books to market.
Jodi Reamer, Writer's House LLC, negotiated the deal on behalf of Nicola and David with Random House Children's Books.
Both David Yoon and Nicola Yoon will also continue to write their individual novels. David will continue to publish under the Putnam imprint at Penguin Young Readers, and Nicola at Delacorte Press.
Nicola Yoon is the #1 New York Times bestselling author of Everything, Everything and The Sun Is Also a Star. She is a National Book Award finalist, a Michael L. Printz Honor Book recipient, and a Coretta Scott King New Talent Award winner. Both her novels have been made into major motion pictures. Nicola grew up in Jamaica and Brooklyn, and lives in Los Angeles with her husband, novelist David Yoon, and their family. She is a hopeless romantic who firmly believes that you can fall in love in an instant and that it can last forever. Visit Nicola online at nicolayoon.com and follow @NicolaYoon on Twitter and Instagram.
David Yoon is the author of the New York Times bestseller Frankly in Love, a William C. Morris Award finalist and Asian/Pacific American Award for Young Adult Literature Honor book, as well as the upcoming YA novel Super Fake Love Song and the adult thriller Version Zero. He also drew the illustrations for his wife Nicola Yoon's #1 New York Times bestseller Everything, Everything. David grew up in Orange County, California, and now lives in Los Angeles with Nicola and their daughter. Visit David online at davidyoon.com.
Posted: October 2, 2020