Big Crowd of Book Buyers Turn Out for Erwin Raphael McManus Event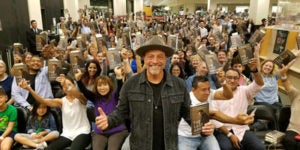 Author and LA pastor Erwin Raphael McManus spoke to a packed house at his Barnes & Noble book-signing event Wednesday night at The Grove in Los Angeles. His new book, THE LAST ARROW: Save Nothing for the Next Life, published by WaterBrook on September 5, is a bold manifesto for a life of passion, adventure, and hope.  As McManus explains through his words and his own life story, everyone is living out their last days—and no one needs to settle for less than all life has to offer. The event kicked off a two-day conference for his church, Mosaic, and was a huge success. The store sold out of the book! 
McManus is an artist, entrepreneur, and cultural thought leader known for his integration of creativity and spirituality. He is the founder of Mosaic, a community of faith in Los Angeles. Known for its innovation, creativity, and artistry, Mosaic has been named one of the most influential and innovative churches in America. He is the author of several other books, including Soul Cravings, Chasing Daylight, An Unstoppable Force, and The Barbarian Way. His books have sold more than a million copies worldwide.
Posted: September 21, 2017