Big Ideas Night Presents "Parenting with Lisa Damour, Kristen Howerton, Cara Natterson and Judith Warner" on Zoom (4/7)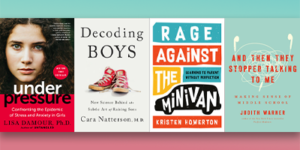 Random House's Big Ideas Night presents "Parenting with Lisa Damour, Kristen Howerton, Cara Natterson, and Judith Warner," live on Zoom, April 7 at 8:00pm (ET).
Big Ideas Night is a forum for the curious, with this particular virtual event's theme focusing on Parenting, featuring four authors:
Lisa Damour, Ph.D., is the New York Times bestselling author of UNTANGLED (Ballantine) and UNDER PRESSURE: Confronting the Epidemic of Stress and Anxiety in Girls (Ballantine), as well as numerous academic papers related to education and child development.
Kristen Howerton is a licensed marriage and family therapist, and author of RAGE AGAINST THE MINIVAN: Learning to Parent Without Perfection (Convergent). She became the mother of four children within four years via birth and adoption. Howerton is also the founder of the blog Rage Against the Minivan and has created several popular humor destinations online.
Cara Natterson, MD, is a pediatrician, popular speaker, consultant, and author of multiple parenting and health books, including DECODING BOYS: New Science Behind the Subtle Art of Raising Sons (Ballantine), The Care and Keeping of You, a three-book series with more than six million copies in print, and Guy Stuff, the corollary for boys.
Judith Warner is the author of the upcoming title AND THEN THEY STOPPED TALKING TO ME: Making Sense of Middle School (Crown), as well as other books, including the New York Times bestselling PERFECT MADNESS: Motherhood in the Age of Anxiety (Riverhead) and the award-winning WE'VE GOT ISSUES: Children and Parents in the Age of Medication (Riverhead).
!!As a reminder, if you are posting to a personal or other non-PRH account you must include the hashtag #TeamPRH."!!
Posted: April 6, 2020