Big Ideas Night: The Asian American Experience with Cathy Park Hong, Kevin Nguyen, and Mira Jacob (4/2)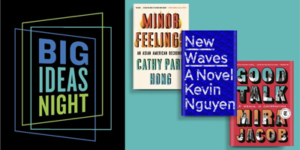 Big Ideas Night presents "The Asian American Experience" with Cathy Park Hong and Kevin Nguyen, moderated by Mira Jacob, live on Crowdcast, Thursday, April 2, at 8:00pm (EST).
Random House's first Virtual Big Ideas Night features Kevin Nguyen, author the novel NEW WAVES (One World), and Cathy Park Hong, author of MINOR FEELINGS: An Asian American Reckoning (One World), in conversation with Mira Jacob, author of the graphic memoir GOOD TALK. These brilliant authors will discuss the inspiration for their new books, how they approach topics like race. and the Asian-American experience in their writing, and more.
Kevin Nguyen is the features editor at The Verge and was previously a senior editor at GQ.
Cathy Park Hong is the author of three poetry collections including Dance Dance Revolution, chosen by Adrienne Rich for the Barnard Women Poets Prize, and Engine Empire. Hong is a recipient of the Windham-Campbell Literature Prize, a Guggenheim Fellowship, and a National Endowment for the Arts Fellowship. Her poems have been published in Poetry, The New York Times, The Paris Review, McSweeney's, Boston Review, and other journals. She is the poetry editor of The New Republic and full professor at the Rutgers University–Newark MFA program in poetry.
Mira Jacob is the author of the critically acclaimed novel The Sleepwalker's Guide to Dancing. Her recent work has appeared in The New York Times Book Review, Vogue, Glamour, Tin House, Electric Literature and Literary Hub.
Posted: March 30, 2020