Bill Buford In Conversation with Ruth Reichl via Crowdcast (7/22)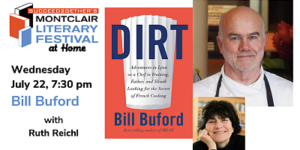 Bill Buford, most recently author of DIRT: Adventures in Lyon as a Chef in Training, Father, and Sleuth Looking for the Secret of French Cooking (Knopf), will be in conversation with Ruth Reichl via Crowdcast on Wednesday, July 22 at 7:30 pm (ET).
DIRT is a hilariously self-deprecating, highly obsessive account of the author's adventures, in the world of French haute cuisine, for anyone who has ever found joy in cooking and eating food with their family.
Buford has been a writer and editor for The New Yorker since 1995. Before that he was the editor of Granta magazine for sixteen years and, in 1989, became the publisher of Granta Books. He is also the author of Heat and Among the Thugs. He was born in Baton Rouge, Louisiana, grew up in California, and was educated at UC Berkeley and Kings College, Cambridge, where he was awarded a Marshall Scholarship for his work on Shakespeare's plays and sonnets. He lives in New York City with his wife, Jessica Green, and their two sons.
Ruth Reichl is the bestselling author of the memoirs Garlic and Sapphires, Tender at the Bone, and Comfort Me with Apples and the novel Delicious! She was editor in chief of Gourmet magazine for ten years.
!! As a reminder, if you are posting to a personal or other non-PRH account you must include the hashtag #TeamPRH !!
Posted: July 21, 2020