Bill Gates' Summer 2021 Reading List Features Two Crown Titles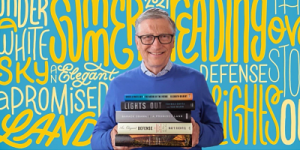 Philanthropist, technologist, business leader, and Penguin Random House author Bill Gates shares his list of thought-provoking books for summer reading on his blog, GatesNotes. In a list of five titles, Mr. Gates includes two published by Crown: UNDER A WHITE SKY: The Nature of the Future by Elizabeth Kolbert. and A PROMISED LAND by Barack Obama.
On GatesNotes, Mr. Gates discusses his motivations for deciding which books to read and explains, "When I finish one book and am deciding what to read next, there usually isn't always rhyme or reason to what I pick. Sometimes I'll read one great book and get inspired to read several more about the same subject. Other times I am eager to follow a recommendation from someone I respect. Lately, though, I find myself reaching for books about the complicated relationship between humanity and nature."
Here's more about the two Crown titles on Mr. Gates' reading list that detail complicated relationships between both humanity and nature:
UNDER A WHITE SKY: The Nature of the Future by Elizabeth Kolbert is a book that posits an impactful question about the environment as a result of actions taken by humans: After doing so much damage, can we change nature, this time to save it? Elizabeth Kolbert is a Pulitzer Prize-winning author who, in Mr. Gates' opinion, writes the "most straightforward examination of 'humanity versus nature' on this list."
A PROMISED LAND by Barack Obama, a #1 New York Times bestseller, is the first volume of memoirs from the former President of the United States. Mr. Obama details the turmoil and transformation during the first term of his historic presidency. On GatesNotes, Mr. Gates writes that this book is "a fascinating look at what it's like to steer a country through challenging times."
To view Mr. Gates full summer 2021 reading list, click here.
Posted: June 16, 2021