Binc and PRH Announce Winner of Inaugural Indies with Impact Award: Blue Manatee Literacy Project and Bookstore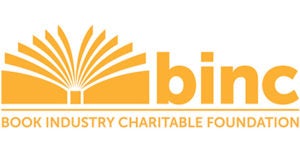 The Binc Foundation and Penguin Random House announced that the Blue Manatee Literacy Project and Bookstore in Cincinnati, Ohio has been awarded the inaugural Indies with Impact prize. Through this award, Penguin Random House recognizes, supports, and strengthens the connections bookstores have with their neighbors by providing funding for the winner's community-based initiative.
Binc received applications from bookstores large, small, newly established, and long-time community anchors from all over the United States. Each applicant demonstrated a strong commitment to their neighborhoods. Project proposals promoted book access for underserved communities, community-building work through adult literacy programs, and a variety of reading programs that serve children and teens.
The selection committee, made up of industry professionals from Penguin Random House and the Binc Foundation's Program Committee, selected the Blue Manatee Literacy Project and Bookstore through an impartial, rigorous review process in a pool of excellent applications.
"Supporting independent bookstores is at the heart of the mission of book publishing. Reaching local communities is central to everything we do at Penguin Random House. We are thrilled to congratulate Blue Manatee Literacy Project and Bookstore on receiving this inaugural award and look forward to seeing the success of their initiative," said Jaci Updike, President of Sales at Penguin Random House.
Pam French, Binc Executive Director, said, "This unique collaboration with Penguin Random House will give The Blue Manatee Literacy Project and Bookstore funds to build and grow their program working with students in Cincinnati Public Schools. We are grateful for this opportunity to work with Penguin Random House on Indies with Impact, because of how the prize honors, recognizes, and supports the vital role bookstores play in their communities."
On learning their program had been chosen, Amanda Kranias, Director of the Blue Manatee Literacy Project and Bookstore told Binc, "[This] grant will accelerate the implementation of our Near-Peer mentoring program to a larger group of students, building relationships that boost reading confidence and leadership skills."
The Near-Peer Mentoring program is a partnership with Cincinnati Public Schools, through which middle-school-aged mentors provide basic reading instruction and skill development to younger readers. The Blue Manatee Literacy Project and Bookstore will supply books to participating students in three to four public elementary and middle schools, and as the program grows, other logistical support to students from public schools across Cincinnati. By creating a project that brings together experts to build literacy programming and providing the underserved readers with the materials needed to participate in the program, the Blue Manatee Literacy Project and Bookstore is setting young readers up for success.
The Book Industry Charitable Foundation (Binc) is a 501(c)(3) nonprofit organization that coordinates charitable programs to strengthen the bookselling community. Established in 1996, the core program provides assistance to bookstore employees who have a demonstrated financial need arising from severe hardship and/or emergency circumstances. Since its inception, the organization has provided over $6.6 million in financial assistance and scholarships to more than 7,476 families. Support for the Foundation's programs and services come from all sectors of the book industry. The Book Industry Charitable Foundation's mission is to strengthen the bookselling community through charitable programs that support employees and their families. The Foundation was imagined and built by booksellers and proudly continues to be their safety net. It is our vision to be a caring community of book people. Additional information can be found at http://www.bincfoundation.org.
Posted: May 31, 2019