Binc Foundation and Penguin Random House Launch New Grant Program, INDIES WITH IMPACT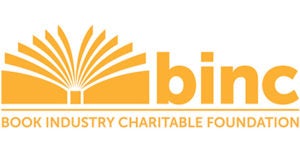 The Binc Foundation and Penguin Random House have announced INDIES WITH IMPACT, a new grant opportunity open to independent bookstores. Two grants will be awarded to two bookstores that work in tandem with a community nonprofit or organization of their choice for a program that strengthens their local communities and encourages a passion for reading. Applications will be accepted March 1 – May 1, 2019 and again during this period in 2020. A total of $3,000 will be awarded over the two years.
The grant is being launched to recognize, support, and strengthen the already robust connections bookstores have with their communities. "We all know the vital role independent bookstores play in our local communities. Through this new exciting partnership with Binc we are able to go further in support of the books we publish and the booksellers who sell them, as we strive to enhance community engagement at a grassroots level," said Jaci Updike, President of Sales for Penguin Random House U.S.
Bookstores can work with local schools, libraries, or nonprofits. Projects and partnerships should focus strongly on community needs and the bookstore's values and mission.
To apply, bookstores must meet eligibility in one of these categories: A U.S. retail brick and mortar store (with a substantial portion of its revenue derived from the sale of books), OR a mobile or pop-up bookstore which is open to the general public and maintains an annual average of 30 hours per week with a bookseller present.
Binc Executive Director, Pam French, commented about this new exciting opportunity, "This unique collaboration with Penguin Random House will give two bookstores the funds to launch fantastic community programs. The review committee is looking forward to reading the wonderful projects booksellers propose."
To find out more about eligibility guidelines and to apply for an INDIES WITH IMPACT grant, visit bincfoundation.submittable.com/submit/136118/indies-with-impact-community-engagement-project Applications are due by May 1.
The Book Industry Charitable (Binc) Foundation is a 501(c)(3) nonprofit organization that coordinates charitable programs to strengthen the bookselling community. Established in 1996, the core program provides assistance to bookstore employees who have a demonstrated financial need arising from severe hardship and/or emergency circumstances. Since its inception, the organization has provided over $6.5 million in financial assistance and scholarships to more than 7,300 families. Support for the Foundation's programs and services come from all sectors of the book industry. The Book Industry Charitable Foundation's mission is to strengthen the bookselling community through charitable programs that support employees and their families. The Foundation was imagined and built by booksellers and proudly continues to be their safety net.
Posted: March 1, 2019