Binc Launches #ReadLoveSupportBinc Challenge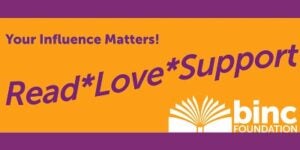 The Book Industry Charitable Foundation (Binc) launched their annual #ReadLoveSupportBinc in support of book and comic stores across the country on Friday, June 10. Over the past two years, book and comic stores across the country pivoted and rose to meet the needs in their communities. They did this while facing unprecedented personal challenges that affected their own households financial stability.
Penguin Random House is committed to supporting bookstores as special places that provide a source of comfort, information, and imagination to their local communities.
The #ReadLoveSupportBinc Challenge is a great way to honor booksellers and comic retailers and raise money to continue to provide assistance as they face the financial and emotional impact of the pandemic, inflation, lack of affordable housing, high cost of healthcare, and the strain on their mental health.
Binc is inviting their donors, supporters, friends and fans to get involved by taking part in the #ReadLoveSupportBinc Challenge.
Make a donation.
Share a photo or video of your To Be Read (TBR) pile to raise awareness of the Foundation and encourage others to join in the challenge.
Like and share posts and videos from some of your favorite authors and creators taking part in the #ReadLoveSupportBinc Challenge.
To learn more about the challenge, get social media assets, and get ready to get involved, click here.
Posted: June 13, 2022