Black Like We Never Left Read-a-Thon Celebrates Black Fiction, Raises Funds for Emerging Writers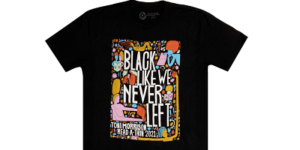 Last week, Penguin Random House teamed up with bookstagrammer Cree Myles, Belletrist, and Out of Print on a virtual read-a-thon celebrating Black fiction. The first Black Like We Never Left event highlighted the work of Nobel and Pulitzer Prize winning Penguin Random House author Toni Morrison and sought to raise money for The Center for Fiction Emerging Writer Fellowship.
From Monday, January 18, through Friday, January 22, Cree hosted live silent reads on her Instagram @creemyles, where more than 2,500 participants read along to Toni Morrison's Beloved, Sula, or Song of Solomon.
Then, on Saturday, January 23, Cree took over @penguinrandomhouse for a virtual celebration featuring conversations with Ta-Nehisi Coates, Phoebe Robinson and Glory Edim.
The three-hour event had more than 10,000 attendees and the IGTV video has been streamed more than 8,000 times so far.
To top it all off, sales of the Black Like We Never Left Read-a-Thon Tee, available for a limited time from Out of Print, raised more than $10,000 for the Center for Fiction, which will sponsor two emerging writers for the class of 2021.
You can watch the full Black Like We Never Left celebration here.
And for more Black Like We Never Left inspiration and Toni Morrison love, check out the read-a-thon challenge hashtags #BLWNLBlackFictionStack and #BLWNLSpitSomeBars, where fans shared their favorite works of Black fiction, and passages from Morrison's books.
For more information about the read-a-thon, contact Carly Gorga.
Posted: January 29, 2021