Blog from Markus: Celebrating Books and Reading in India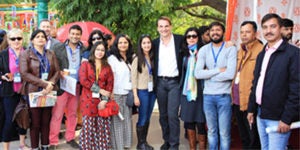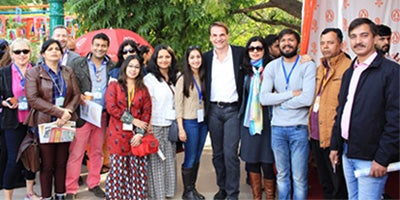 Last week I had the privilege of visiting our colleagues in India on the heels of last year's 30th anniversary of PRH India. It was an inspiring trip that underscored the importance of local editorial independence—and the opportunities we have to share best practices across our territories and connect outstanding books to even more readers around the world.
The development of PRH India in the past five years is a great success story; e-commerce has helped us reach readers in rural areas without bookstores, and we've started to publish in some local languages. We're highly ambitious about further developing the consumer book market—approximately 10% of the population is fluent in English, which equates to about 130 million people. With that, India is the second largest English language market worldwide. Whether we publish in English, Hindi, or across six of the other local languages thanks to a new co-publishing deal, what matters most is the importance of books in Indian culture. Knowledge is considered sacred, and books represent knowledge.
The reverence, energy, and enthusiasm around books, especially among young people, was palpable when I attended the Jaipur Literature Festival—the largest literary festival in the world. Many of our authors participated in panels and launched new books, and many of our PRH India colleagues gathered to join the celebration of our authors and our books. I spoke on a panel entitled "The Writer and the World" which focused on the local foundation of publishing but also explored how global rights and translation allow titles with international resonance to find the largest possible audience. The explosive growth of literary festivals in India not only brings writers closer to readers but also spurs debate and discussion about the role in Indian society of reading, writing, and books.
Throughout the festival and in a number of media interviews, I acknowledged our local team for their success, as well as my optimism for continued growth of the publishing business—both locally and globally. As always, I reiterated our commitment to upholding and advocating for freedom of expression in every region in which we publish. We must strive to do all we can to ensure that diverse voices are heard.
This imperative is wholly supported by our team on the ground in India. In Delhi, I met with our DK and PRH colleagues. We discussed our local approach to publishing and opportunities to share content and expertise across our territories. I was struck by their creativity and passion for the work they do. PRH India is building up their audio business and have already begun a few exciting marketing partnerships. DK is truly a major creative hub for their global business, and the content they produce is visually stunning. I was happy to come home with a few books on Gandhi to add to my history book collection!
India is an exciting market, and with the young demographic and vibrant economy we are poised for continued growth over the next years and decades. It's a thrilling and important time in India right now and I'm glad I was there at the beginning of this year to celebrate our history—and our future—with our authors and our local team.
Posted: February 5, 2018