Blue Rider Press' David Rosenthal on Carrie Fisher and THE PRINCESS DIARIST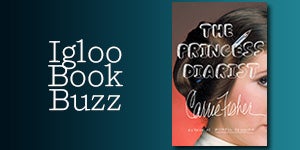 This week's Igloo Book Buzz selection is Carrie Fisher's THE PRINCESS DIARIST, published by Blue Rider Press on Tuesday (11/22). David Rosenthal, President & Publisher of Blue Rider Press, edited the book, and says, "If it weren't for her fame in the Star Wars movies, Carrie Fisher might be best known as a writer. With novels like Postcards from the Edge and The Best Awful, and memoirs like Wishful Drinking, Carrie has established herself as a singular comedic voice, tinged with the sadness of modern living. While some of the early press on The Princess Diarist has focused on Carrie's revelations about her relationship with Harrison Ford four decades ago, her book brilliantly dissects the questions of fame, aging and longing for connections in Hollywood (and in our families)."
With her portrayal of Princess Leia in the original Star Wars trilogy, Fisher became one of the world's most famous pop-culture icons.  As she prepared to return to the Star Wars series in 2015, Fisher made a most interesting discovery—three long-forgotten journals she had kept during the making of the first Star Wars film in 1976. Filled with the musings, insights, and witticisms of her nineteen-year-old self, they also document an affair with one of her co-stars that has never been revealed until now, with the publication of THE PRINCESS DIARIST.
"I've rarely talked about being Leia at length—not deliberately in any event," Fisher writes. She definitely corrects that state of affairs with her new memoir, reflecting on how she got to be Leia, what it was like to actually play her, and how Leia has changed her life. "I'm asked about her all the time," she writes. "How she is. What her plans are for episodes VIII and IX.  How things are going with Harrison." As it turns out, Harrison Ford plays a significant role in Fisher's new book. "I've spent so many years not telling the story of Harrison and me having an affair on the first Star Wars movie that it's difficult to know exactly how to tell it now," she writes. "I suppose I'm writing this because it's forty years later and whoever we there then—superficially at least—we no longer are now. Whoever I might have infuriated then wouldn't have the energy to be infuriated now. And even if they did, I wouldn't have the energy to feel as guilty as I would have thirty or twenty or—well, there's no way I could've written it even ten years ago."
Lest she be accused of kissing and telling without warning or scruple, Fisher notes that, before disclosing anything that is possibly someone else's secret to tell, she first lets that person know about her intention. "I don't want to make anyone else look stupid," she writes. "That's a privilege I reserve for myself." Besides, she says, if she hadn't written about it, someone else would have. Someone without direct knowledge of the "situation." Someone who would wait—cowardly—until after her passing to speculate on what happened and make her look bad. Or Internet folks, who would conjecture about it with their proof being heretofore-unseen publicity pictures from Japan.
Beyond "Carrison," Fisher offers fresh, funny, and touching new takes on many of the major events of her remarkable life and career, starting with her childhood in the Hollywood fishbowl, as the daughter of the famously divorced Debbie Reynolds and Eddie Fisher. Their bitter split amid the tabloid glare when Fisher left Reynolds for her best friend, Elizabeth Taylor, and the subsequent decline of her parents' finances and starry luster, made her vow never to go into show business. But at fifteen she was in a Broadway show starring her mother, and at seventeen, she won the role of a jaded, intellectually and sexually precocious teenager in Shampoo, which brought her to the attention of George Lucas.
Posted: November 21, 2016