Book the Vote: Today is National Voter Registration Day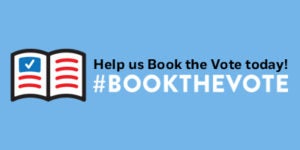 If you've been following our posts about Book the Vote, you'll know that today is National Voter Registration Day!
Book the Vote is a Penguin Random House nonpartisan company-wide initiative dedicated to encouraging voter registration and voter turnout through employee and author engagement and to providing tools for brick and mortar stores across the country for this shared goal.
Today, join our PRH authors, illustrators, and colleagues on social media to help Book the Vote!
Share a picture, share a story, and tell your friends and followers why voting matters.
When you post today:
1. Add the Book the Vote logo to your pictures [download here]
2. Use the #BookTheVote hashtag
3. Include the following link to get your friends and followers registered! http://bit.ly/BookTheVote
Book the Vote was born out of the excitement about the forthcoming publication of GLIMMER OF HOPE: How Tragedy Sparked a Movement (Razorbill and Dutton Adult, October 16), written by the March for Our Lives founders.
Posted: September 25, 2018